Smoked and Grilled Tomahawk Ribeyes with Shallot-Garlic Butter and Basic Steak Dry Rub
If you've never encountered a tomahawk chop, you should. A brontosaurus sized steak, the tomahawk cut is a bone on ribeye with extra bone added for visual effect. While it's not something that you're likely to come across every day, your local butcher may be able to help you out if you ask real, real nice!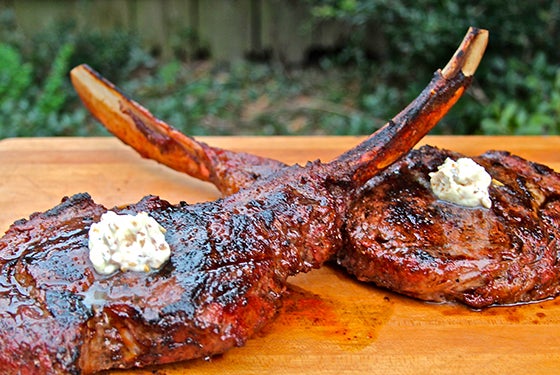 Smoked and Grilled Tomahawk Chops with Shallot-Garlic Butter and Basic Steak Dry Rub
Ingredients
2 tomahawk ribeyes, approximately 2.5 lbs. each
¼ cup extra virgin olive oil
1 shallot, minced
3 cloves of garlic, minced
1 stick unsalted butter, softened
Basic steak dry rub (recipe follows)
Special tools: One extension rack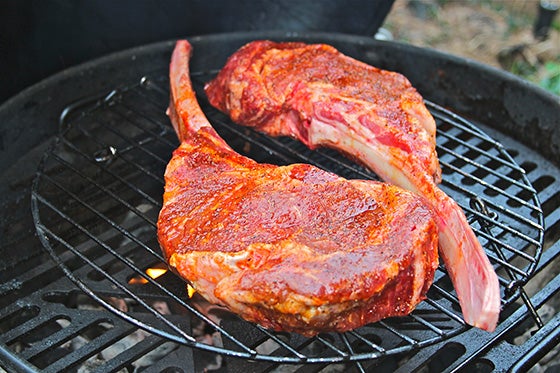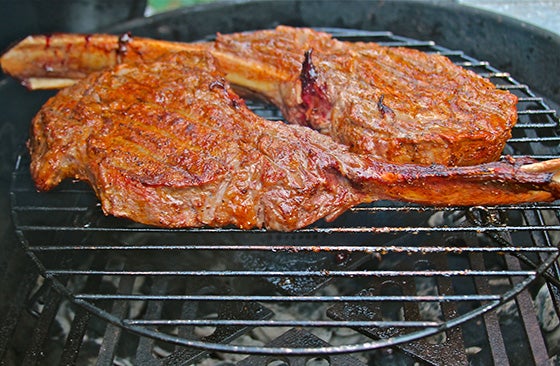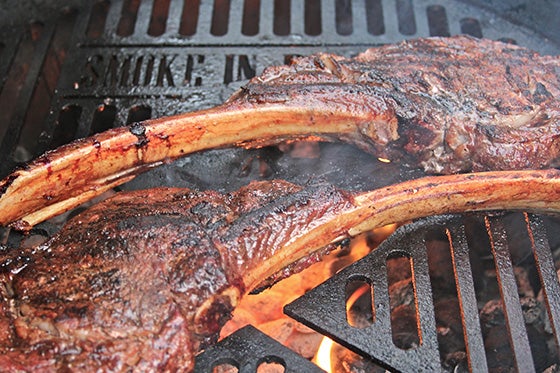 Instructions
Prepare a chimney of Kingsford Original Charcoal briquets. Once the charcoal has started to ash over and is glowing red, pour the coals on to one side of the grill bottom for two-zone cooking, creating one cool zone for smoking and one zone for high heat cooking. Add 6-7 Kingsford Smokehouse Briquets to the ashed over charcoal briquettes for a deep, smoky flavor and place the main grill grate on to the grill. Add an extension rack to the grill and cover until ready to use.
In a small sauté pan, add the olive oil and heat until smoking. Add the shallots and garlic and move the pan to the cool zone, allowing the shallots and garlic to cook in the hot oil until fragrant. Place ribeyes in to a large baking dish. Using a mesh strainer, pour the garlic shallot olive oil over the steaks. In a small bowl, blend together the butter, shallots and garlic and set aside. Rub the steaks with the flavored oil and season liberally with basic steak dry rub seasoning. Place steaks on the extension rack as far away from the heat as possible, cover and allow to smoke for 8-10 minutes. Remove the steaks and the extension rack from the grill. Return the steaks to the grill over high heat and grill 3-4 minutes per side for medium rare (130 degrees). Remove, plate, and top with the garlic-shallot butter. Allow the steaks to rest for 10 minutes before serving.
Basic Steak Dry Rub
Ingredients
2 tbsp. hot smoked paprika
2 tbsp. light brown sugar
3 tbsp. Kosher salt
3 tsp. cracked black pepper
2 tsp. ground thyme
tsp. ground rosemary
1 tsp. chili powder
Instructions
Combine all ingredients in a small bowl and blend well.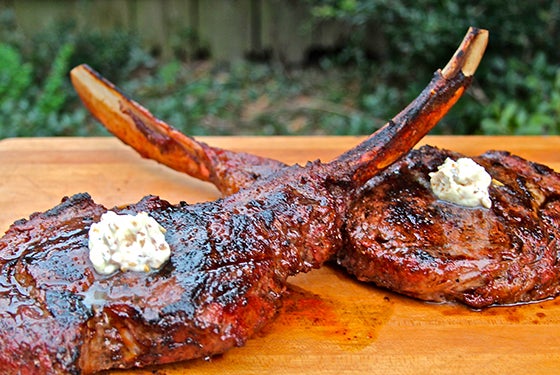 Enjoy!