Whistler Village Peppered Bacon and Poutine Burgers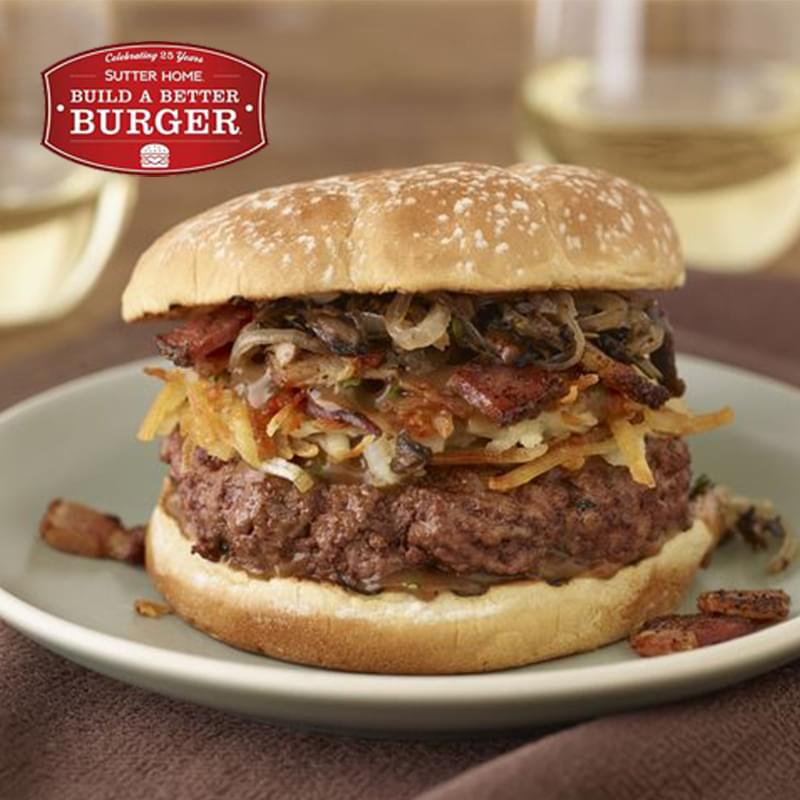 Yields:

6 Servings

Cook time:

10 minutes

Prep time:

45 minutes
Ingredients
Peppered Bacon and Portobello Mushrooms
1/2 pound thick-sliced peppered bacon (cut into ½ inch pieces)
2 large Vidalia onions (peeled, quartered and sliced)
12 ounces portobello mushrooms (finely chopped)
2 teaspoons fresh thyme (chopped)
1 teaspoon fresh rosemary (chopped)
1/2 teaspoon freshly ground black pepper
1/2 cup Sutter Home® Chardonnay
1 teaspoon salt
Burger Patties
2 pounds ground Angus chuck (80% lean)
1/2 recipe pureed Peppered Bacon and Portobello Mushrooms (recipe above)
1/2 teaspoon freshly ground black pepper
2 teaspoons fine sea salt
2 tablespoons Worcestershire sauce
Poutine Gravy
3 tablespoons unsalted butter
3 cloves garlic (finely chopped)
1 shallot (finely chopped)
1 teaspoon fresh thyme (chopped)
1 teaspoon salt
1/2 teaspoon freshly ground black pepper
2 teaspoons Worcestershire sauce
3 tablespoons flour
1/2 cup Sutter Home® Chardonnay
2 cups good beef stock (preferably homemade)
Potato Patties
3 medium Idaho potatoes (grated)
1 Vidalia onion (grated)
1½ teaspoons salt
1 teaspoon freshly ground black pepper
2 tablespoons Colavita Extra-Virgin Olive Oil
2 tablespoons unsalted butter
Main Ingredients
olive oil for brushing the grill
6 ounces white cheese curds (substitute smoked Gouda broken into small pieces)
2 tablespoons unsalted butter (softened)
6 potato buns
Instructions
Fire up a full chimney of Original Kingsford® Charcoal, or light a pile of about 100 briquets. Configure the coals for a two-zone fire, placing the briquets on one half of the charcoal grate to create a hot zone for grilling and a cool zone for moving the burgers during flare-ups. Adjust the bottom grill vents for medium-high heat cooking, approximately 400–425°F.
To make the peppered bacon and portobello mushrooms, place a cast iron skillet on the grates. Add the bacon and cook until medium crisp. Remove the bacon with a slotted spoon and reserve. Add the onions, mushrooms, thyme, rosemary and pepper to the skillet and sauté in the bacon fat until the onions are caramelized, about 15 minutes. Add the Sutter Home® Chardonnay and salt and cook until the wine has evaporated, about 5 minutes. Evenly divide the mixture into 2 bowls. Puree one portion for the burger patties and chill. Add the reserved bacon to the other portion and set aside.
To make the burger patties, gently but thoroughly combine all of the ingredients in a large bowl. Divide into 6 equal portions and form into patties slightly larger than the potato buns. Cover and set aside.
To make the gravy, place a cast iron skillet on the grates. Add butter, garlic, shallot, thyme, salt, pepper and Worcestershire sauce. Cook until shallots are soft, about 2 minutes. Add flour and cook until mixture is light brown, about 5 minutes. Add wine and simmer until partly reduced, about 2 minutes. Add beef stock, whisk until smooth, and simmer for an additional 2 minutes or until gray thickens.
To make the potato patties, place a large heatproof griddle on the grill. In a large bowl combine potatoes, onions, salt and pepper and mix well. Let stand for 15 minutes. Squeeze out excess moisture and discard the liquid. Divide the potato mixture into 6 even parts. Add olive oil and butter to the griddle. Place the 6 potato portions on the griddle and flatten to a thickness of ¼-inch. Cook patties on one side until golden brown, about 10 minutes. Flip patties and cook for an additional 5–7 minutes. Remove from griddle and cover with foil to keep warm while cooking burgers.
Brush the grill rack with olive oil. Place the patties on the rack and cook for approximately 4 minutes on one each side until they reach an internal temperature of 160°F. During the last 2 minutes of cooking, add equal amounts of cheese curds to the top of each patty. Butter the cut sides of the potato buns and place cut side down on the outer edges of the grilling rack to toast.
To assemble burgers, place a burger patty on each of the bottom buns, add 2 tablespoons of gravy, top with a potato patty, add 2 more tablespoons of gravy and top with equal portions of peppered bacon and portobello mushrooms. Add the bun tops and serve.
Credit: Sutter Home®'s Build a Better Burger® contest