Veggie 'n' Buffalo Chicken Pizza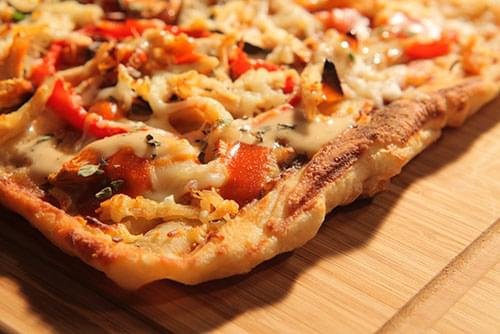 Yields:

6 Servings

Cook time:

30 minutes

Prep time:

15 minutes
Ingredients
½ cup freshly sliced mushrooms
½ cup Hidden Valley® Farmhouse Originals Savory Bleu Cheese Dressing plus more for garnish
½ cup KC Masterpiece® Buffalo Marinade plus more for garnish
½ cup shredded mozzarella cheese
1 cup cooked chicken roughly chopped, (from a store-bought rotisserie-cooked chicken)
1 container (11 ounces) pizza dough
1 cup zucchini sliced
1 medium yellow onion peeled, sliced
1 red bell pepper stem removed, seeded, sliced
2 tablespoons olive oil
2½ tablespoons freshly chopped oregano
Instructions
Preheat oven to 400°F.
In a large bowl, toss the onion, zucchini, peppers and mushrooms together with the KC Masterpiece® Buffalo Marinade. Spread the vegetables in a single layer on parchment-lined baking sheet and roast for 25 minutes or until the vegetables have softened and edges are browned. This can be done a day in advance.
Preheat the grill or rectangular grill pan over medium heat.
On a lightly floured work surface, roll out dough into an approximately 8 x 14-inch rectangle. Brush with 1 tablespoon of the olive oil.
Lay dough onto grill, oil-side down and brush top with remaining olive oil. Cover and grill over medium heat, about 3 minutes or until dough is puffed and underside is browned. If using a grill pan, cover with a sheet pan or large baking dish. Using tongs, turn pizza over and grill until the dough is firm enough to handle, about 1 minute more.
Spread the dressing over the crust. Sprinkle with the vegetables, chicken and cheese and cover. Cook the pizza until cheese is melted, about 6 minutes. Transfer to a cutting board. Sprinkle with the chopped oregano. Drizzle with a little of the KC Masterpiece® Buffalo Marinade and Hidden Valley® Farmhouse Originals Savory Bleu Cheese Dressing if desired. Slice and serve.