The Ultimate Mac-and-Cheese Burger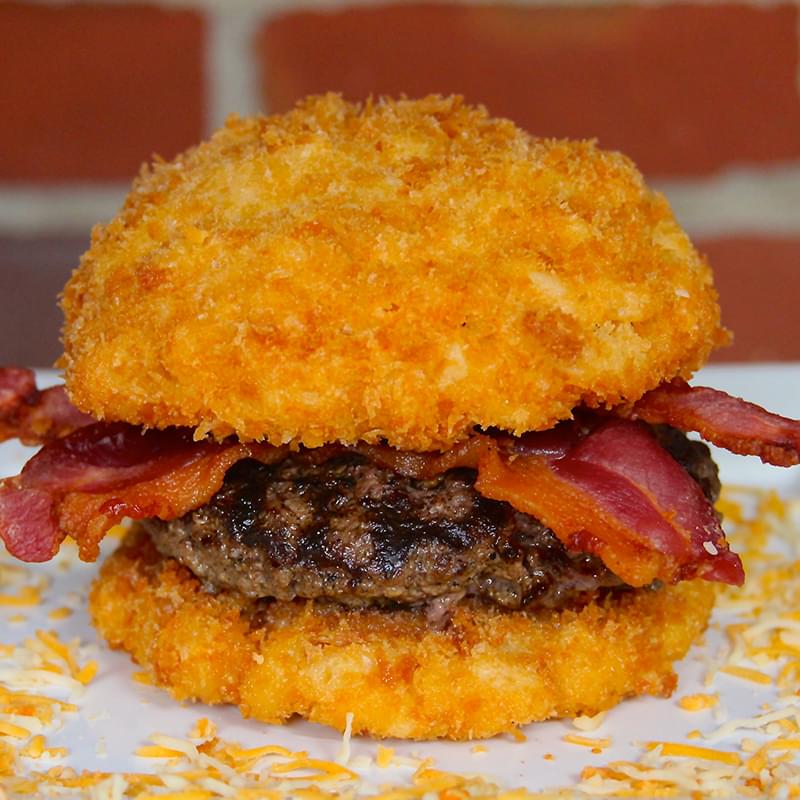 Yields:

2 Servings

Cook time:

10 minutes

Prep time:

45 minutes
Ingredients
Main Ingredients
3/4 lb. ground beef (preferably an 80/20 blend)
1/8 cup shredded Colby jack cheese
4 slices thick-cut bacon (cooked)
Panko-crusted mac-and-cheese buns (recipe follows)
Panko-Crusted Mac-and-Cheese Buns
2 (8 oz.) boxes elbow macaroni and cheese mix
2 cups flour
1 teaspoon kosher salt
4 eggs (beaten with 2 tbsp. milk)
4 cups panko breadcrumbs
canola oil or peanut oil for frying
Instructions
Panko-Crusted Mac-and-Cheese Buns Instructions:
Make macaroni and cheese mixes according to directions. Place the mac-and-cheese in a large bowl and refrigerate for at least 15 minutes to cool completely and thicken.
Using your hands, form 2 divided cups of the mac-and-cheese into two 4.5-inch wide disks for the bottom buns. To create the top buns, use 3–4 cups of mac-and-cheese to create two 4.5-inch wide domes. Wrap each bun half tightly with plastic wrap and place in the freezer for 15–20 minutes to harden but not completely freeze.
As the grill comes to temperature, place the flour and salt in a shallow bowl and stir to combine. Place beaten eggs in a second bowl and the panko in a third. Working one at a time, dredge each bun half in flour, then the egg mixture, then panko.
In a medium saucepan, add approximately 4 inches and heat over medium-high heat. When the oil begins to shimmer, add the mac-and-cheese "buns" one at a time and fry for approximately 2 minutes until golden brown. Remove the bun from the oil and set on paper towels to drain.
Instructions:
Fire up a full chimney of Original Kingsford® Charcoal, or light a pile of about 100 briquets. Configure the coals for a two-zone fire, placing the briquets on one half of the charcoal grate to create a hot zone for grilling and a cool zone for moving the burgers during flare-ups. Adjust the bottom grill vents for medium-high heat cooking, approximately 400–425°F.
Form ground beef into 4 flat patties. Place 1/2 of the grated cheese in the center of each of two patties. Top with the remaining two patties and pinch the edges closed to create cheese stuffed burgers.
Place the burgers on the grill and cook until they reach an internal temperature of 160°F.
To assemble the burgers, place the cheese stuffed patties on the bottom mac-and-cheese buns. Add 2 slices of bacon and the top bun to each burger then serve immediately.