The Perfect Burger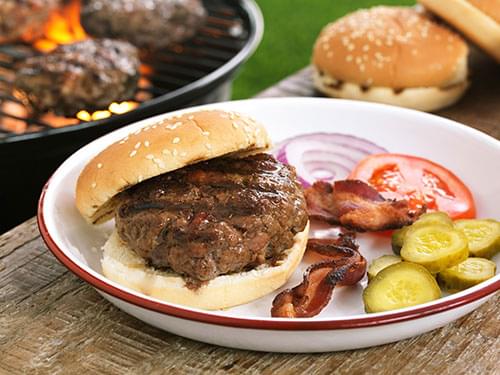 Yields:

6 Servings

Cook time:

7 minutes
Ingredients
Burger
1 pound beef brisket point ground
1/2 pound boneless beef short ribs ground
1/2 pound boneless ox tail ground
9 slices bacon thick cut
6 slices sharp Cheddar cheese
2 tablespoons butter softened
6 burger buns
1 pinch salt
1 pinch black pepper
Burger Baste
1 teaspoon garlic powder
1 teaspoon ground ginger
1 teaspoon onion powder
1 teaspoon paprika
1 teaspoon sugar
3/4 cup soy sauce
Bacon Rub
1½ teaspoons chili powder
1/8 teaspoon cayenne pepper
1/8 teaspoon cumin
1/8 teaspoon salt
2 tablespoons sugar
Instructions
Mix the ground beef brisket, short ribs and ox tail together completely. Then, form six patties, approximately 1/3 pound each, and refrigerate until needed.
Using Kingsford® charcoal, build a fire for direct grilling and preheat to 400°F. While the grill preheats, mix the Burger Baste ingredients together in a small bowl, set aside.
In another small bowl, mix the Bacon Rub ingredients, and then season the bacon liberally. Once the grill is preheated, place the bacon over direct heat and cook for 1 minute on each side, or until the bacon is charred and brown.
While the bacon is cooking, season the burger patties with salt and black pepper. Place the patties over direct heat and cook for 3½ minutes on each side, while basting every couple of minutes. Place a slice of cheese on each burger during the last minute of cook time and remove the patties and bacon from the grill. Discard any remaining Bacon Rub and Burger Baste.
Lightly butter the face of the burger buns and place them over direct heat with the grill lid open. Cook for 30 seconds or until the face is light brown and toasted and remove from grill. Place cheeseburgers and bacon on buns.