The Big Pig Pizza with Stuffed Jalapeño Crust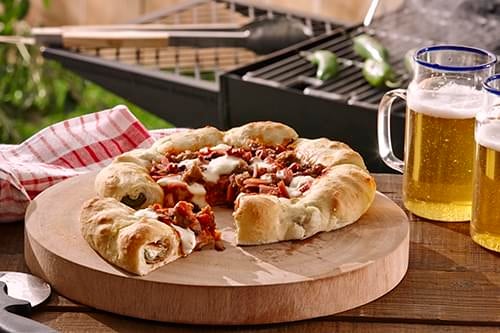 Yields:

4 Servings

Cook time:

50 minutes

Prep time:

1 hour
Ingredients
6 jalapeño peppers stems removed, halved and seeded
4 ounces cream cheese
12 slices bacon
1 1-lb. package frozen pizza dough thawed
1 tablespoon cornmeal or flour
1 cup pizza sauce
2 ounces salami sliced
2 ounces ham diced
2 ounces prosciutto
2 ounces sweet Italian sausages
2 ounces shredded mozzarella cheese
Instructions
Build a charcoal fire for both direct and indirect cooking using Kingsford® charcoal by situating the coals on only one side of the grill, leaving the other side void. Close the grill lid and preheat to 250°F (on the void side).
Fill the peppers with the cream cheese. Wrap each pepper with a strip of bacon, securing with a toothpick if needed.
Grill the jalapeños over indirect heat for 35 to 40 minutes or until the peppers have softened and the bacon is crisp. Remove the peppers from the grill. Remove any toothpicks.
Increase the temperature to 500°F and place a pizza stone on the grill to preheat.
On a well-floured surface, roll the dough into a 12-inch circle. Dust a pizza peel with the cornmeal. Center the dough on the pizza peel.
Arrange the jalapeños in a circle two inches from the edge of the dough. Fold the dough over the jalapeños and press to seal. Spoon the sauce into the center of the pizza. Top with the salami, ham, prosciutto, sausage and cheese.
Slide the pizza from the peel on to the stone.
Cook the pizza covered for 10 to 12 minutes or until the cheese has melted and the crust has browned and is crispy.
Credit: Recipe created by world champion pitmaster, Chris Lilly on behalf of Kingsford® charcoal.