Surf and Turf Burger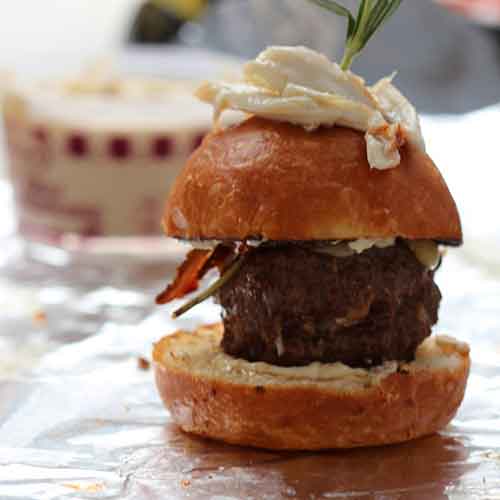 Yields:

6 Servings

Cook time:

10 minutes

Prep time:

20 minutes
Ingredients
1 pound ground beef (preferably 80/20 meat to fat ratio)
salt
coarse ground pepper
6 slices Gruyere cheese
1 cup lump crab meat
4 tablespoons unsalted butter
¼ cup mayonnaise
4 cloves garlic peeled
1 tablespoon olive oil
4 slices cooked, thick-cut bacon cut into thirds
6 mini brioche buns lightly toasted
Instructions
Preheat grill to medium high.
Place garlic on a square of tin foil, add olive oil and wrap well.
Place packet on grill for approximately 20 minutes until garlic is soft.
Mash garlic and mix with mayo.
Refrigerate aioli until ready to use.
Add butter to a small sauce pan and place on grill until melted.
Remove and briefly dip crab meat into butter.
Set buttered crab aside.
Gently form ground beef into 12 1-inch patties.
Place even portions of crab meat in the center of six patties, top each with remaining 6 patties and press edges to seal.
Sprinkle both sides of burger patties liberally with salt and pepper.
Grill burgers until thoroughly cooked through, approximately 4–5 minutes per side.
Spread aioli on bun tops.
Place burgers on the bottom buns, top each with two slices bacon, one slice of cheese.
Add top buns and serve immediately.