Stuffed Red Bell Peppers with Bacon Baked Beans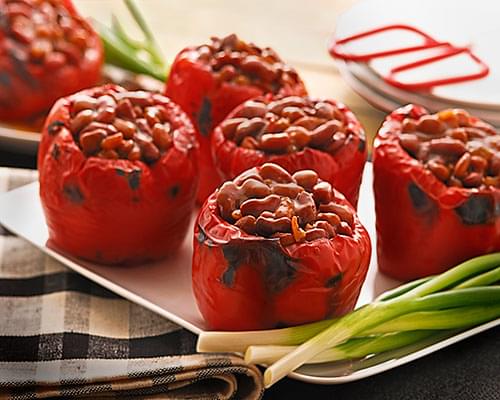 Yields:

8 Servings

Cook time:

45 minutes

Prep time:

30 minutes
Ingredients
Hickory Brown Sugar Baked Beans
1 large onion chopped
1 tablespoon mustard
2 cloves garlic chopped
3 cans kidney beans (16 ounces each)
3 cans pinto beans (16 ounces each)
5 strips uncooked bacon chopped
¼ cup ketchup
½ cup brown sugar
½ cup KC Masterpiece® Hickory Brown Sugar Barbecue Sauce
½ cup real maple syrup
8 red bell peppers
aluminum foil
Hickory Brown Sugar Baked Beans mix (see below)
Instructions
With a paring knife, cut a circle around the top edge of each bell pepper. The top of each pepper should then lift off like a lid. Remove pepper core, veins and seeds and discard.
In a small frying pan, sauté onion and bacon for 3–5 minutes. Add garlic and sauté an additional 30 seconds. Drain bacon grease from mixture. Combine contents of frying pan with all remaining baked bean ingredients into a large bowl and mix well.
Wrap a doubled sheet of aluminum foil around the outside of each pepper leaving the top of the peppers uncovered. Fill each pepper with ¾ cup baked bean mix.
Preheat charcoal grill to 400°F. Place peppers on the grill uncovered and cook for 45 minutes. Remove pepper from the grill, unwrap the foil and serve.