Stuffed Burgers with Pimento Cheese and Sweet Onion Marmalade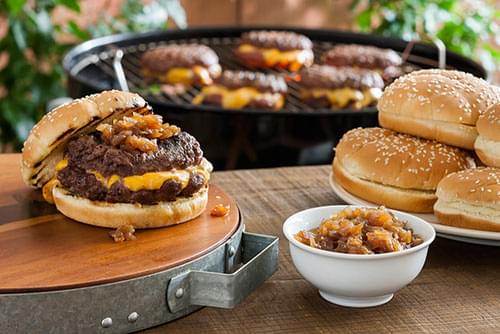 Yields:

6 Servings

Cook time:

19 minutes

Prep time:

8 minutes
Ingredients
Pimento cheese
6 ounces sharp Cheddar cheese grated
2 ounces pepper jack cheese grated
¼ cup mayonnaise
2 tablespoons pimentos diced
¾ teaspoon Worcestershire sauce
⅛ teaspoon salt
1 pinch black pepper
1 pinch garlic powder
Burger
3 pounds ground beef
salt and pepper to taste
2 tablespoons butter for the buns
6 hamburger buns
Sweet Onion Marmalade
3 large, sweet onions cut into ½-inch pieces
3 tablespoons vegetable oil
3 tablespoons butter
2 ¼ teaspoons salt
¾ teaspoon freshly ground black pepper
⅔ cup brown sugar
⅓ cup red wine vinegar
Instructions
Combine the pimento cheese ingredients in a medium bowl. Mix and refrigerate until needed.
Form 12 ground beef patties about 1/4 pounds each and 1/2-inch thick. Then, using the pimento cheese, form 2 ½ tablespoons into a round patty about 1/4-inch thick. Repeat until 6 pimento cheese patties are formed. Place each pimento cheese patty on top of 6 burger patties. Cap each of these with the other ground beef patties. Press the edges of the ground beef patties together to seal in the cheese. Refrigerate until needed.
Build a charcoal fire for direct grilling using Kingsford® charcoal. Preheat to 400°F.
Grill the onion slices over direct heat until they soften and brown, about 2 minutes on each side. Remove the onions from the grill and dice.
In a medium skillet, heat the oil and butter over direct heat. Add the diced onions, salt, pepper, and cook, stirring, until the onions become translucent, about 6 minutes. Add the brown sugar and simmer until the onions caramelize, about 3 minutes. Add the vinegar and simmer until most of the liquid is gone, about 3 minutes. Remove the pan from the grill.
Season the burger patties on both sides with salt and black pepper. Put the burgers over direct heat and cook, until the juices run clear, about 3½ minutes on each side.
Lightly butter the cut sides of the burger buns and put them over direct heat with the grill lid open. Cook until lightly browned and toasted, about 30 seconds.
Serve the burgers on the toasted buns with your favorite condiments.
Credit: Recipe created by world champion pitmaster Chris Lilly on behalf of Kingsford® Charcoal.