Steak Fajitas with Grilled Bell Peppers and Portobello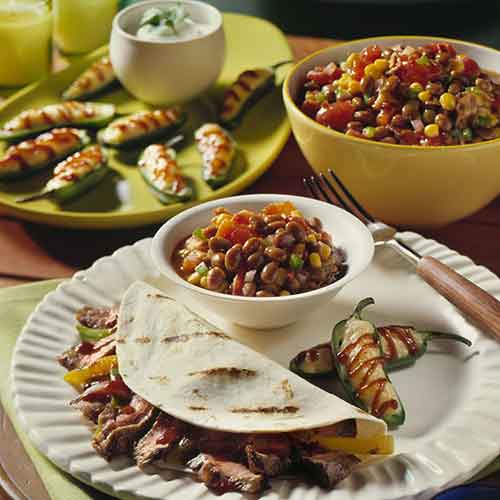 Yields:

4 Servings

Cook time:

20 minutes

Prep time:

15 minutes
Ingredients
1 green bell pepper seeded, quartered
1 red onion quartered
1 tablespoon fresh lime juice
1 teaspoon cumin
1 yellow or red bell pepper seeded, quartered
1½ pounds flank steak
2 portobello mushrooms
8 (9 inch) flour tortillas
1/4 cup KC Masterpiece® Mesquite Barbecue Sauce
1/2 cup KC Masterpiece® Garlic & Herb Marinade
sour cream
lime wedges
fresh cilantro
Instructions
Place KC Masterpiece® Garlic & Herb Marinade, cumin and lime juice in a large, resealable plastic bag. Add steak, mushrooms, peppers and onions and shake bag to coat ingredients. Refrigerate until ready to grill, up to 4 hours.
Prepare grill for medium-hot cooking. Drain marinade from bag and discard. Cook steak until browned on both sides, 5 minutes per side. Cook mushrooms, peppers and onion 4 minutes per side, or until lightly browned and softened. Slice steak and vegetables and keep warm.
Using tongs, heat tortillas quickly over grill. Fill warm tortillas with meat and vegetables, drizzle with KC Masterpiece® Mesquite Barbecue Sauce and serve with sour cream, lime wedges and cilantro as desired.