Spicy Apricot Wings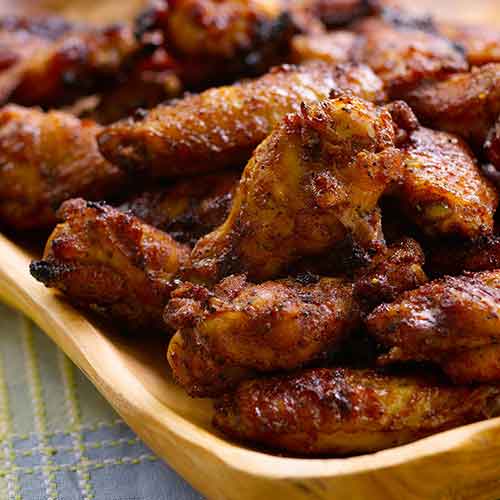 Yields:

4–6 Servings

Cook time:

35 minutes

Prep time:

4 hours
Ingredients
Marinade
½ teaspoon ground ginger
¼ cup brown sugar
¼ cup Worcestershire sauce
1 cup apricot preserves
1 teaspoon cayenne pepper
2 tablespoons Dijon mustard
2 tablespoons soy sauce
2 teaspoons garlic powder
2 teaspoons paprika
4 teaspoons black pepper
14 whole chicken wings (28 pieces total), cut into wings and drumettes
Instructions
Mix the marinade ingredients in a small bowl and whisk until well blended. Place the chicken in a shallow dish or resealable plastic bag and pour the marinade over the wings, turning to coat. Cover or seal, and marinate the wings in the refrigerator for 4 hours.
Build a charcoal and/or wood fire on one side of the grill, leaving the other side void. This will create an area for indirect heat. When the temperature reaches 450°F, remove the wings from the marinade (do not shake off the excess marinade) and place them on the grill grate away from the coals. Close the lid and cook for approximately 30 to 35 minutes, flipping each wing piece once. Remove the wings from the grill and serve.
Recipe created by pit master Chris Lilly. To get a hard copy of more of his recipes, order "Big Bob Gibson's BBQ Book"

Apple wood pairs well with the apricot and spice.