Smoked Pork Tenderloin with Michigan Cherry Glaze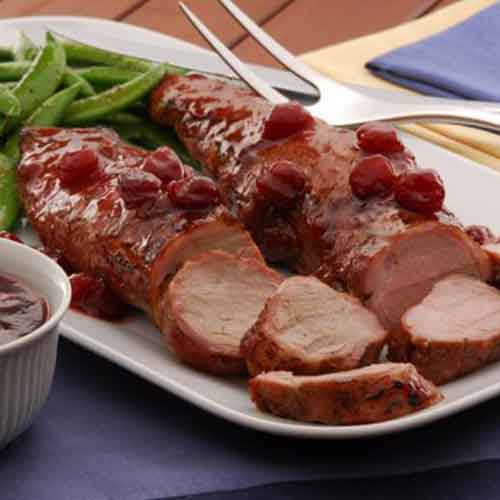 Yields:

6 to 8 Servings

Cook time:

1 ½ hours

Prep time:

4 hours
Ingredients
Glaze
½ tablespoon distilled vinegar
1 teaspoon Worcestershire sauce
1½ teaspoons water
1 tablespoon pure maple syrup
6 ounces Michigan cherry preserves
Marinade
½ teaspoon minced garlic
½ teaspoon salt
¼ cup cherry cola
¼ cup dark brown sugar
¼ cup soy sauce
1 teaspoon ground black pepper
1 teaspoon minced onion
3 tablespoons olive oil
¼ cup cherry cola
2 whole pork tenderloins (1½ to 3 pounds total)
Instructions
In a large bowl, combine the marinade ingredients and mix well. Place the tenderloins in a resealable plastic bag and pour in the marinade. Refrigerate for 4 to 12 hours.
Build a fire (wood or a combination of charcoal and wood) for indirect cooking by situating the coals on only one side of the grill, leaving the other side void. When the cooker reaches 250°F, place the tenderloins on the void side of the grill and close the lid. Cook for 1 hour and 15 minutes, turning once.
Combine the glaze ingredients in a small bowl. Use a small pastry brush to paint the tenderloins with the glaze. Cook for an additional 10 to 15 minutes, or until the internal temperature of the tenderloins is 155° to 160°F. Let the tenderloins rest under tinfoil for 10 minutes on a cutting board, slice into medallions, and serve.
The mild fruitiness of the apple is just the right partner for the cherry glaze.