Smoked Chili Frito Pie Burger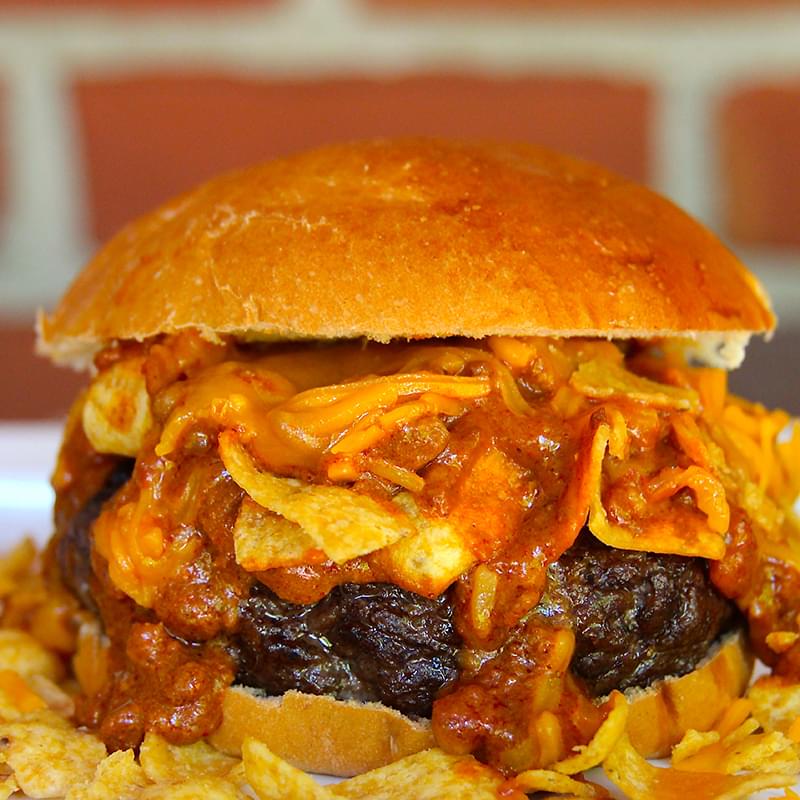 Yields:

4 Servings

Cook time:

10 minutes

Prep time:

2 hours
Ingredients
Main Ingredients
1½ pounds ground beef (preferably an 80/20 blend)
kosher salt and ground black pepper
smoked chili (recipe follows or substitute canned chili)
1/2 diced, small white onion (optional)
2 cups grated sharp Cheddar cheese
1 (9.75 oz.) bag Frito corn chips
4 hamburger buns (lightly toasted)
Smoked Chili
1 tablespoon canola oil
1 tablespoon chili powder
1/4 teaspoon ground cumin
1 teaspoon dried oregano
2 tablespoons smoked paprika
1/2 teaspoon ground chipotle powder
1 (14.5 oz.) can fire-roasted, diced tomatoes
1 (15 oz.) can tomato sauce
1 pound ground beef
Instructions
Smoked Chili Instructions:
Prepare grill for two-zone cooking, placing preheated Kingsford® briquets on one side of the charcoal grate and leaving the other side cool. Adjust the grill's bottom vent to bring the temperature to approximately 225®F. Add 6–7 Kingsford® Smokehouse Style Briquets or 2–3 chunks of your favorite smoking wood once the charcoal has completely ashed over.
Form ground beef in to a large patty and season liberally with kosher salt and ground black pepper. Place the ground beef on the cool side of the grill, cover and allow the meat to smoke for 20–30 minutes until cooked through.
Remove ground beef from the smoker or grill and rest for 5 minutes until crumbling. Place a large pot on the hot side of the grill and add ground beef and remaining ingredients. Allow the chili mixture to simmer uncovered for 45 minutes, stirring periodically until it has reduced slightly and thickened. Season with salt and pepper to taste. Keep chili warm until ready to serve or refrigerate in a covered dish then reheat as needed.
Instructions:
Fire up a full chimney of Original Kingsford® Charcoal, or light a pile of about 100 briquets. Configure the coals for a two-zone fire, placing the briquets on one half of the charcoal grate to create a hot zone for grilling and a cool zone for moving the burgers during flare-ups. Adjust the bottom grill vents for medium-high heat cooking, approximately 400–425°F.
Form ground beef into four burger patties and season liberally with salt and pepper. Grill burgers until they reach an internal temperature of 160°F. Place one burger patty on each bottom bun, top with smoked chili, diced onions (optional), cheese and corn chips. Add the top bun and serve immediately.