Quick Marinated Flank Steak with Roasted Red Potatoes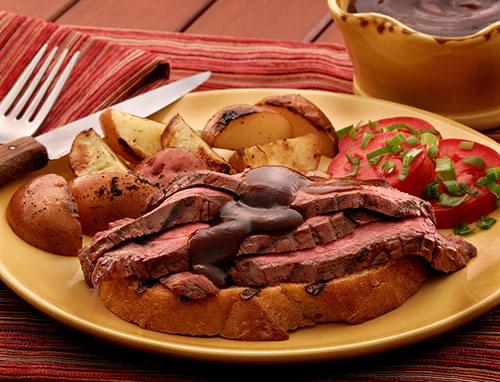 Yields:

2–3 Servings

Cook time:

28 minutes

Prep time:

3 ¼ hours
Ingredients
Marinade
1 tablespoon garlic powder
1/4 cup soy sauce
1/2 cup red wine vinegar
Potatoes
1 tablespoon olive oil
1½ pounds small redskin potatoes
salt to taste
pepper to taste
Instructions
Combine the marinade ingredients in a large GLAD® Storage Bag and add the meat. Remove excess air from the bag and seal securely. Place in the refrigerator for at least a half hour up to 3 hours.
To make the potatoes, cut the potatoes in half or quarters if larger. Place in a mixing bowl and toss with the olive oil, salt and pepper. Cut two 16-inch pieces of heavy-duty aluminum foil. Place half the potatoes onto each piece. Fold the sides into a packet and then poke a couple of holes in each packet.
Using a chimney starter, light Kingsford® charcoal. Once the coals are well lit and begin to turn gray around the edges, empty into your grill. Spread out the coals evenly. Replace the grill rack and place the potato aluminum packet to one side of the rack, but still over the hot coals.
Remove the steak from the marinade and place on the grill rack over the hot coals as well. Close the grill lid and cook for about 5 minutes. Turn the steak over and cook for another 4–5 minutes. Remove the meat from the grill and allow to rest on a cutting board for 10 minutes. Turn the potato packets over after 10 minutes and cook for another 10 minutes. Open packets carefully and serve.
Serving suggestion: Allow the meat to rest on a cutting board and then slice the meat very thinly against the grain of the meat. Serve with your favorite KC Masterpiece® Barbecue Sauce along with the potatoes. Steak also makes a tasty sandwich on toasted bread.