Pulled Pork Potato Bites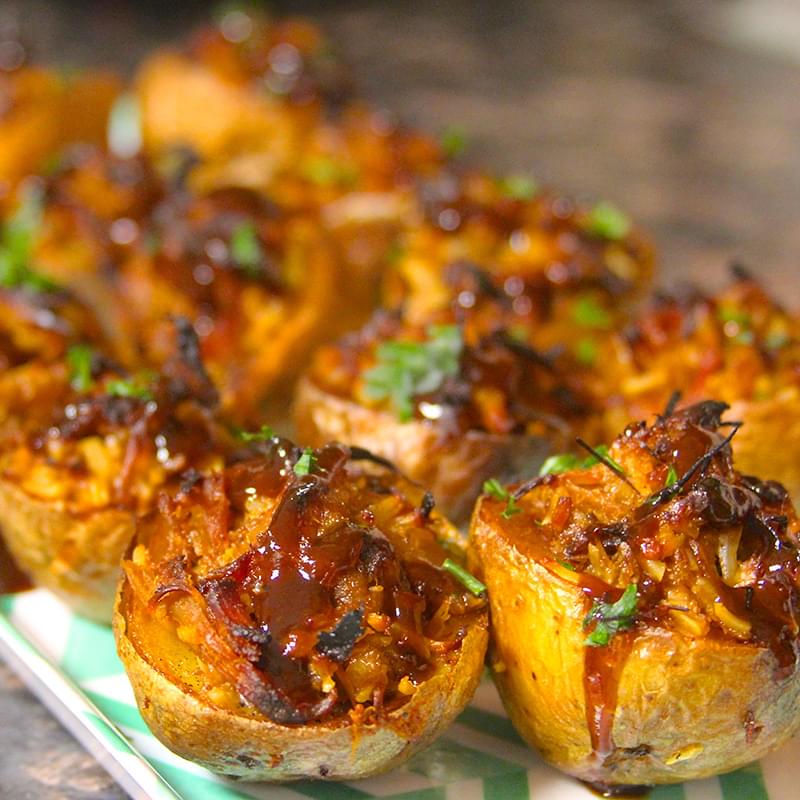 Yields:

24 Servings

Cook time:

50 minutes

Prep time:

20 minutes
Ingredients
Main Ingredients
12 small white potatoes
1 tablespoon canola oil
1/2 teaspoon kosher salt
2 cups finely chopped smoked pork butt
1 tablespoon your favorite BBQ dry rub seasoning
1/4 cup KC Masterpiece® Barbecue Sauce plus sauce for drizzling
1/2 cup shredded mozzarella cheese
Additional Tools
1 vegetable grilling basket
Instructions
Prepare grill for medium-high heat cooking, approximately 400°F. Once the charcoal has come to temperature, add 2–3 chunks of your favorite smoking wood to the briquets.
Place potatoes in a medium bowl and toss with canola oil and Kosher salt. Place potatoes in a vegetable grilling basket and place on the grill. Cover the grill and allow the potatoes to roast for approximately 45 minutes until fork tender, turning them periodically with tongs.
Remove the potatoes from the grill and allow them to cool. Slice potatoes lengthwise. Use a 1/8 or ¼ tsp. measuring spoon to scoop the flesh from the centers of the potato halves, leaving ¼ inch of potato around the edges and bottom.
Combine chopped pork, dry rub, sauce, and cheese in a medium mixing bowl and blend well. Stuff the centers of the potatoes with the smoked pork mixture. Return the potatoes to the grill, placing them cut side up on the main cooking grate. Cover the grill and allow the stuffed potatoes to cook for 5 minutes until heated through. Drizzle with additional barbecue sauce and serve immediately.