Pressed Cuban Burger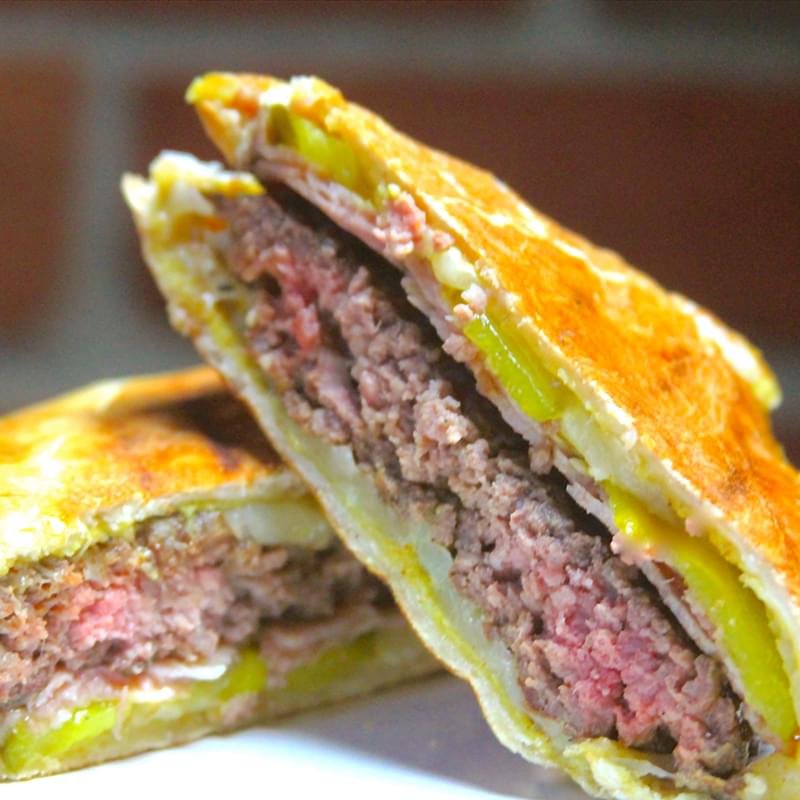 Yields:

2 Servings

Cook time:

15 minutes

Prep time:

10 minutes
Ingredients
Main Ingredients
1½ pounds ground pork
1 pound thinly sliced deli ham
8 slices Swiss cheese
1 crusty Italian baguette (ends removed and cut into 4-inch sections)
kosher dill sandwich slices
garlic mustard aioli (recipe follows)
kosher salt and ground black pepper
Additional Tools
Heavy duty aluminum foil
Cast iron skillet or brick
Garlic Mustard Aioli
1/2 cup mayonnaise
2 tablespoons Dijon mustard
2 cloves garlic (minced)
1 teaspoon lemon juice
Instructions
Garlic Mustard Aioli Instructions:
Combine all ingredients in a small bowl and stir to combine. Use immediately or cover and refrigerate.
Instructions:
Fire up a full chimney of Original Kingsford® Charcoal, or light a pile of about 100 briquets. Configure the coals for a two-zone fire, placing the briquets on one half of the charcoal grate to create a hot zone for grilling and a cool zone for moving the burgers during flare-ups. Adjust the bottom grill vents for medium-high heat cooking, approximately 400–425°F.
Form ground beef in to four burger patties and season liberally with salt and pepper. Grill burgers until they reach an internal temperature of 160°F.
Slice baguette sections in half horizontally. Spread garlic mustard aioli on each side of the baguettes. Place one slice of Swiss cheese on each bottom section and top with a burger patty, 2 kosher dill sandwich slices, 2–3 slices of ham, a second slice of Swiss cheese, and the top of the baguettes Wrap the Cuban burgers loosely with a double layer of aluminum foil.
Place foil wrapped burgers on the grill one at a time and place a cast iron skillet or brick on top of the packet.
Grill for approximately 3 minutes per side while pressing down on the skillet or brick until the cheese has melted and the bread is browned and crunchy. Unwrap burgers, cut in half, and serve immediately.