Pickled Ginger Slaw and Sriracha Lime Mayo Burger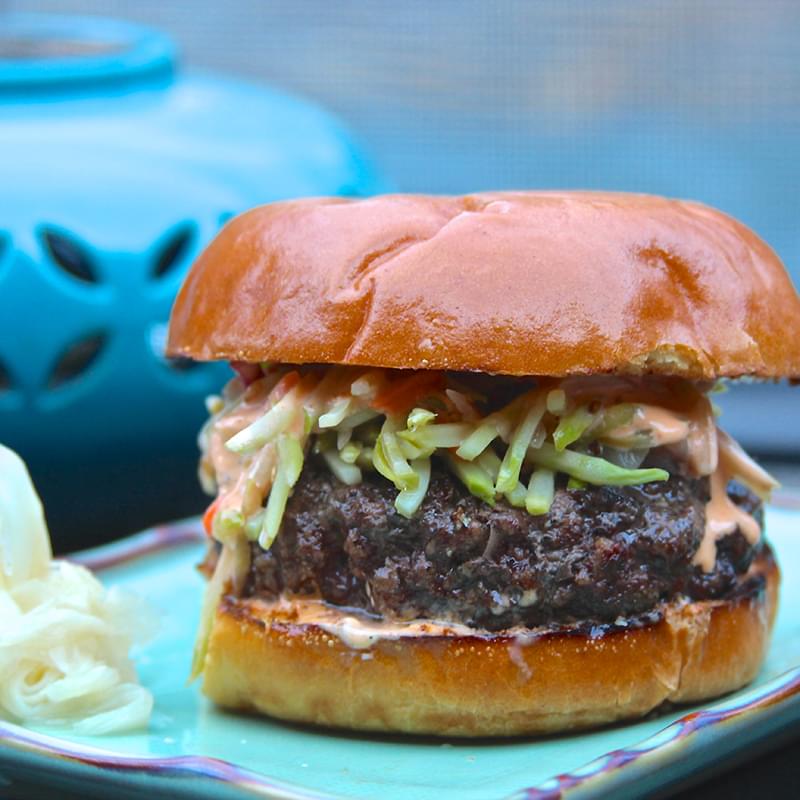 Yields:

4 Servings

Cook time:

10 minutes

Prep time:

20 minutes
Ingredients
Main Ingredients
1½ pounds ground beef (preferably an 80/20 blend)
kosher salt and pepper
pickled ginger slaw (recipe follows)
sriracha lime mayo (recipe follows)
4 hamburger buns (lightly toasted)
Pickled Ginger and Sesame Slaw
12 oz. package broccoli slaw
1/2 cup pickled ginger (roughly chopped)
1/2 cup rice wine vinegar
2 tablespoons sugar
1 tablespoon sesame seeds
1 teaspoon sesame oil
1 teaspoon salt
Sriracha-Lime Mayo
1/4 cup mayonnaise
1 tablespoon sriracha hot pepper sauce
1 tablespoon lime juice
Instructions
Pickled Ginger and Sesame Slaw Instructions:
Combine all of the ingredients in a medium-sized bowl and refrigerate for at least an hour so all of the ingredients have time to meld.
Sriracha-Lime Mayo Instructions:
Combine all of the ingredients in a small bowl and refrigerate until ready to use.
Instructions:
Fire up a full chimney of Original Kingsford® Charcoal, or light a pile of about 100 briquets. Configure the coals for a two-zone fire, placing the briquets on one half of the charcoal grate to create a hot zone for grilling and a cool zone for moving the burgers during flare-ups. Adjust the bottom grill vents for medium-high heat cooking, approximately 400–425°F.
Form ground beef into four patties and season liberally with kosher salt and pepper. Grill burgers until they reach an internal temperature of 160°F. Spread sriracha-lime mayo on the top and bottom buns, place burger patties on the bottom bun, top with pickled ginger and sesame slaw, add the top bun and serve immediately.