Mini Buffalo Chicken Quesadillas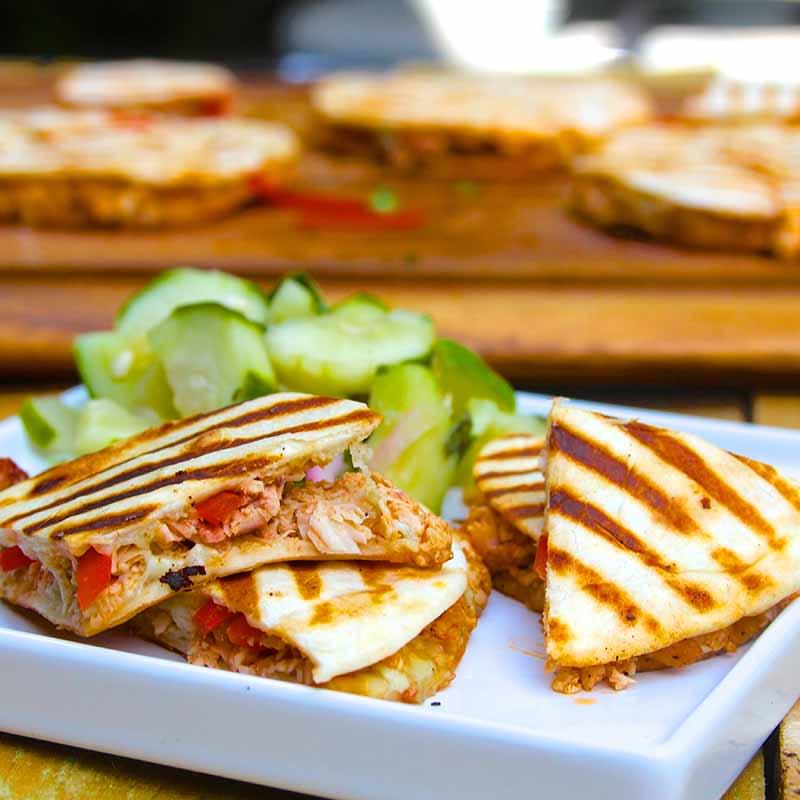 Yields:

8 Servings

Cook time:

30 minutes

Prep time:

15 minutes
Ingredients
6 boneless, skinless chicken thighs
2 tablespoons your favorite BBQ dry rub seasoning
16 4-inch flour tortillas
4 ounces crumbled blue cheese
4 ounces shredded mozzarella cheese
4 tablespoons unsalted butter (melted)
1/3 cup hot sauce (I prefer Louisiana brand)
1 can canola cooking spray
1 red bell pepper (julienned)
Instructions
Prepare grill for medium-high heat cooking, approximately 400°F. Once the grill has come to temperature, add 1–2 chunks of your favorite smoking wood (alternatively you can wrap a handful of smoking wood chips in foil and poke several holes in the foil) to the charcoal briquets.
Season chicken thighs liberally on both sides with BBQ dry rub. Place thighs on the grill and cook for approximately 5 minutes per side until they reach an internal temperature of 165&degF.
Remove the thighs from the grill and allow them to rest for 5 minutes before finely chopping.
As the chicken rests, combine the blue cheese and mozzarella cheese in a medium bowl and blend well. Combine melted butter and hot sauce in a large mixing bowl and stir to combine. Add the chopped chicken to the hot sauce mixture.
Spray one side of 8 flour tortillas with canola oil and place them oiled side down on a large platter or sheet pan. Top each tortilla with 1 tablespoon. of the cheese mixture. Add approximately ¼ cup buffalo chicken, 4–6 slices red bell pepper and another tablespoon of the cheese mixture. Top with the remaining flour tortillas and spray with canola oil.
Working in batches, grill the quesadillas for 3–4 minutes per side until tortillas are lightly browned and the cheese has completely melted. Remove quesadillas from the grill, cut into quarters and serve.