Lemon Flank Steak Skewers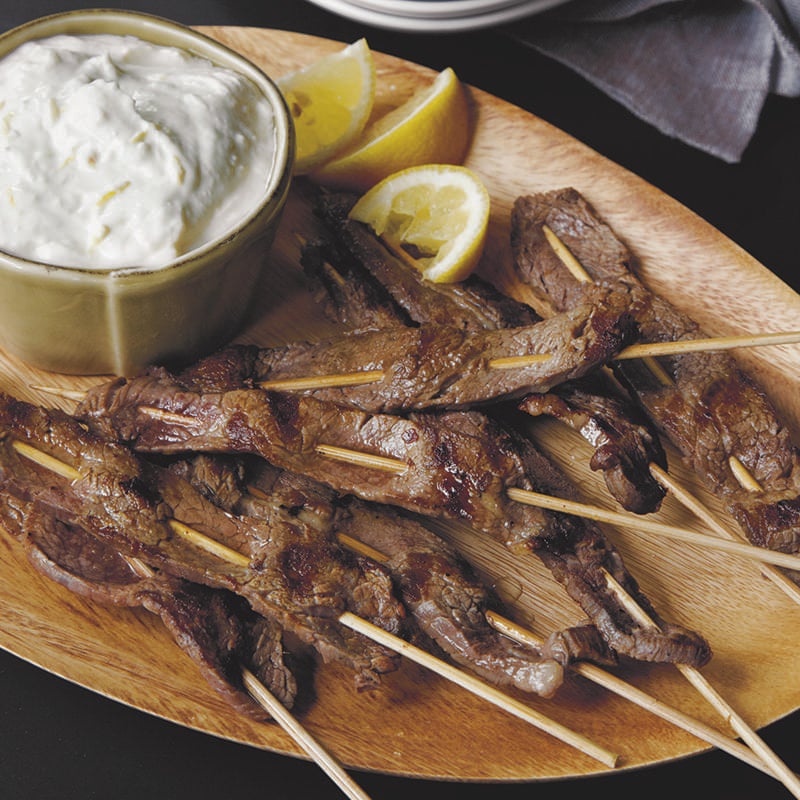 Yields:

12–16 Servings

Cook time:

10 minutes

Prep time:

10 minutes
Ingredients
Main Ingredients
4 (2-pound) flank steaks
2/3 cup olive oil
4 teaspoons lemon zest
1/2 cup fresh lemon juice
2 teaspoons salt
1/2 teaspoon dried crushed red pepper
50 (12-inch) wooden skewers
Lemon Dipping Sauce (recipe follows)
lemon wedges garnish:
Lemon Dipping Sauce
2 (16-ounce) containers reduced-fat sour cream
2 tablespoons refrigerated horseradish
2 teaspoons lemon zest
6 tablespoons fresh lemon juice
1 teaspoon salt
garnish: lemon zest
Instructions
Lemon Dipping Sauce Instructions:Combine first 5 ingredients; cover and chill at least 1 hour. Garnish, if desired.
Instructions:Cut steaks diagonally into ¼-inch slices. Combine olive oil and next 4 ingredients in a shallow dish or zip-top plastic freezer bag; add steak. Cover or seal, and chill 8 hours, turning occasionally.
Soak wooden skewers in water 30 minutes.
Preheat grill to 350° to 400° (medium-high) heat. Remove steak from marinade, discarding marinade. Thread each steak slice onto 1 skewer.
Grill beef, covered with grill lid, 4 to 5 minutes on each side or to desired degree of doneness. Serve with Lemon Dipping Sauce. Garnish, if desired.
Credit: Recipe courtesy of All Fired Up by Southern Living and Troy Black (Oxmoor House)