Korean BBQ (Bulgogi) Lettuce Wraps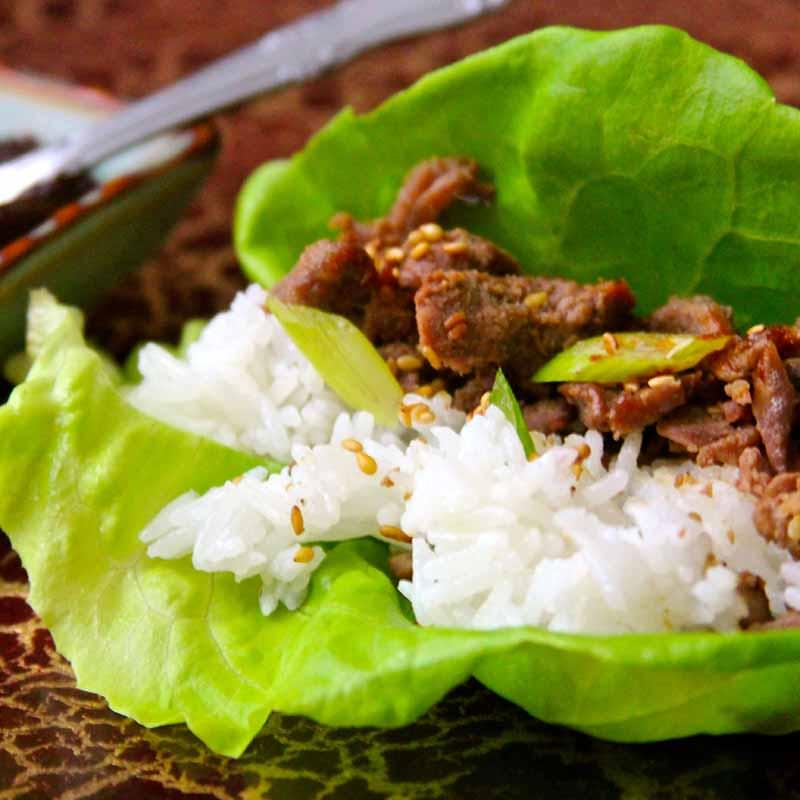 Yields:

6–8 Servings

Cook time:

20 minutes

Prep time:

10 minutes
Ingredients
Main Ingredients
2 pounds sirloin steak (thinly sliced)*
1/4 cup soy sauce
2 tablespoons mirin rice wine
1 teaspoon grated ginger
1 teaspoon grated garlic
1/2 tablespoon sesame oil
1 tablespoon toasted sesame seeds
2 green onions (thinly sliced)
1/4 teaspoon ground black pepper
ssamjang (optional)
steamed white rice
bibb lettuce leaves
Additional Tools
1 mesh roasting rack or grill basket
Instructions
Place beef, soy sauce, mirin, ginger, garlic, sesame oil, sesame seeds, green onions and pepper in a large zip top bag, seal, and shake to combine all of the ingredients. Refrigerate the beef for 2 hours to fully absorb the marinade.
Prepare grill for high-heat cooking, placing the mesh grill basket on the grill to preheat. Remove beef from the marinade and place in the grill basket. Allow the beef to cook for approximately 10 minutes, stirring frequently until thoroughly cooked.
Remove beef from the grill and serve wrapped in lettuce leaves along with steamed rice and (optional) ssamjang.
*Tip: Slicing beef in to thin strips is made easily if you partially freeze the steak. Simply wrap it in plastic wrap and place in the freezer for 1½–2 hours until it is firm but not completely frozen then remove, unwrap and slice with your sharpest knife.