Jerk Pulled Pork Shoulder Sliders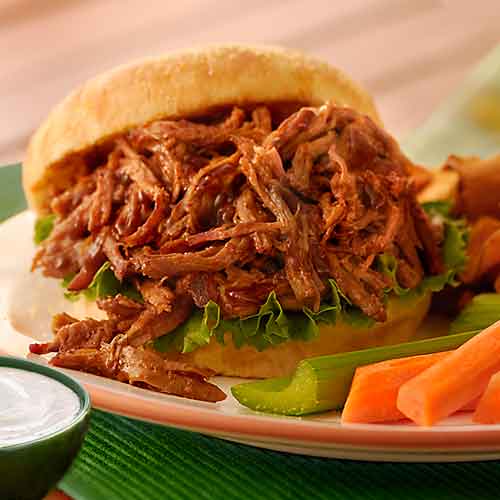 Ingredients
Jerk Paste
1 clove garlic minced
1 green onion diced
1 tablespoon vegetable oil
1 teaspoon allspice
1 teaspoon black pepper
1–2 Scotch bonnet peppers seeded, (can substitute habanero peppers)
¼ teaspoon cinnamon
¼ teaspoon ginger
¼ teaspoon nutmeg
½ cup onion diced
½ tablespoon salt
¾ teaspoon thyme
1 pork shoulder butt semi-boneless,
Jerk Dipping Sauce
2 cups KC Masterpiece® Original Barbecue Sauce
2 tablespoons jerk paste
Instructions
Place pork shoulder butt on grill and cook with indirect heat up to 8 hours on 250°F, continually monitoring grill temperature and meat temperature. Add hot Kingsford coals, as needed, to maintain grill temperature. The internal temperature of the pork butt should reach 190°F when done. Remove pork from grill. Hand-pull pork off the bone and serve with sauce on the side.
Build a charcoal fire on one side of grill, such that the coals are situated on only one side of the grill, leaving the other side void. This will create an area for lower temperature indirect cooking away from the coals.
Put all jerk paste ingredients, except for oil, into a food processor. Run processor while adding oil slowly until smooth paste forms. Reserve 1 tablespoon of jerk paste for dipping sauce. Rub pork butt well with remaining jerk paste. Serve as a sandwich or enjoy pork by itself.