Grilled Vidalia Onion and Jalapeño Hummus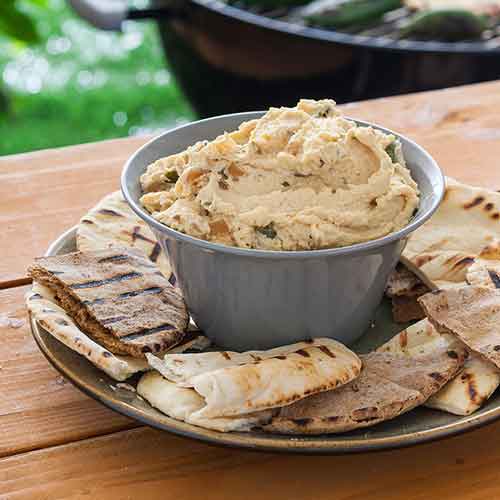 Yields:

6 Servings

Cook time:

5 minutes

Prep time:

5 minutes
Ingredients
1/2 medium, sweet onion (such as Vidalia), cut into ¼-inch slices
2 jalapeño peppers halved, seeded
1/4 cup tahini
2 tablespoons lemon juice
2 garlic cloves
2 15-ounce cans garbanzo beans rinsed and drained
1/4 teaspoon salt
1 tablespoon chili oil
Instructions
Build a charcoal fire for direct grilling using Kingsford® charcoal. Preheat to 450°F.
Put the onion slices and jalapeño peppers over direct heat and cook, turning once, until they char and start to soften, about 5 minutes.
Remove the vegetables from the grill and chop them.
In an electric food processor, combine the tahini, lemon juice and garlic. Process until the garlic cloves are finely minced, then add in the garbanzo beans and salt. Mix again until smooth. Spoon the paste into a serving dish and stir in the chopped onion and jalapeño. Drizzle with chili oil and serve chilled.
Credit: Recipe created by world champion pitmaster Chris Lilly on behalf of Kingsford® Charcoal.