Grilled Venison Burger with Cherry Salsa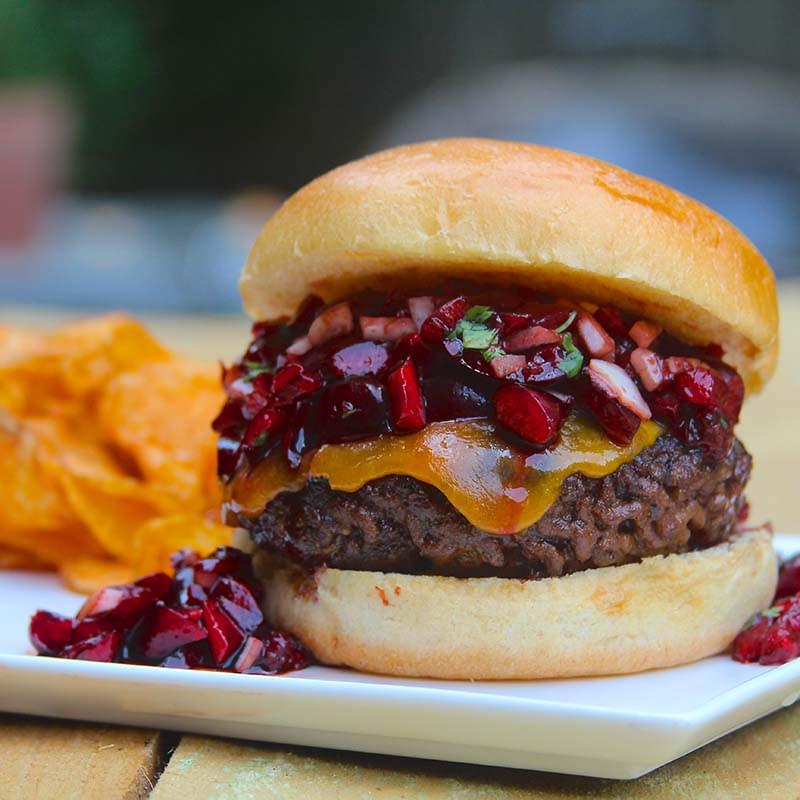 Yields:

4 Servings

Cook time:

10 minutes

Prep time:

20 minutes
Ingredients
2 cups pitted cherries (roughly chopped)
1 jalapeño (seeds and ribs removed, then finely diced)
2 tablespoons chopped cilantro
2 tablespoons finely diced Vidalia onion
1 tablespoon balsamic vinegar
1/2 tablespoon lime juice
1/2 teaspoon sugar
1½ pounds ground venison
4 (½ tablespoon) pats butter
kosher salt and pepper
4 hamburger buns (lightly toasted)
Instructions
In a medium bowl, combine the first seven ingredients and blend well. Refrigerate the cherry salsa for at least one hour to allow all of the flavors to meld.
Fire up a full chimney of Original Kingsford® Charcoal, or light a pile of about 100 briquets. Configure the coals for a two-zone fire, placing the briquets on one half of the charcoal grate to create a hot zone for grilling and a cool zone for moving the burgers during flare-ups. Adjust the bottom grill vents for medium-high heat cooking, approximately 400–425°F.
Form ground venison into eight thin patties. Place one pat of butter in the center of four patties then top each one with an additional patty. Crimp the edges of the burger to seal it completely. Season liberally with Kosher salt and pepper. Grill the stuffed patties until they reach an internal temperature of 160°F, adding a slice of sharp cheddar cheese to the top of each during the last 3–4 minutes of grilling. Place burger patties on the bottom bun, add cherry salsa and the top bun then serve immediately.