Grilled Shrimp and Grits Appetizer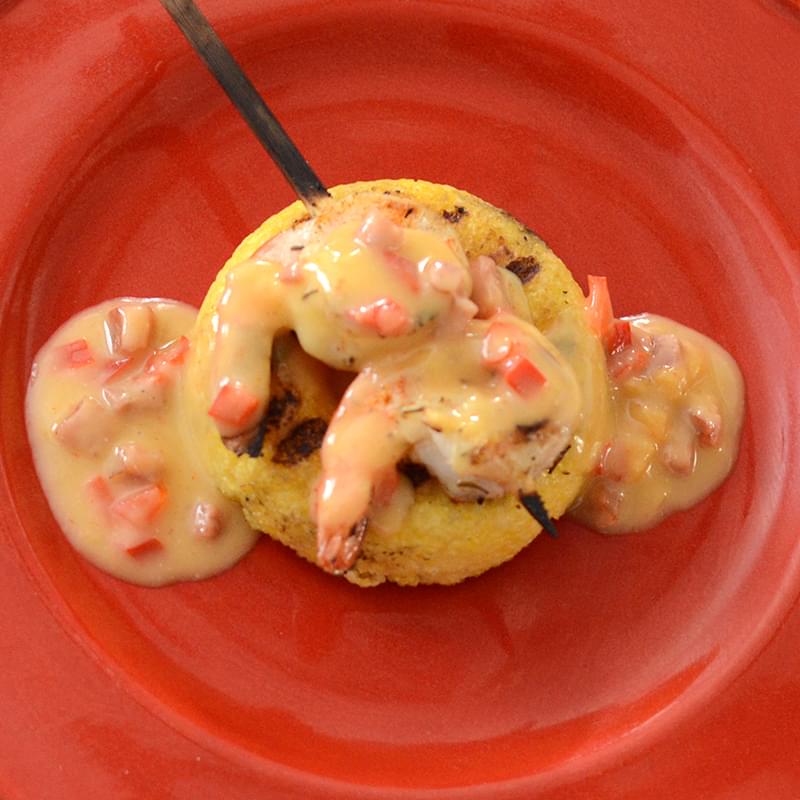 Yields:

6 Servings

Cook time:

15 minutes

Prep time:

1 hour
Ingredients
Main Ingredients
1/2 pound medium shrimp (peeled and deveined)
1 cup yellow grits (cooked according to directions)
2 tablespoons melted butter
For the rub
1 teaspoon pink salt or sea salt
1/4 teaspoon dried thyme leaves
1/4 teaspoon granulated garlic
1/8 teaspoon black pepper
1/8 teaspoon cayenne pepper
For the sauce
1 tablespoon butter (unsalted)
1/4 cup diced smoked sausage
1/4 cup finely diced red bell pepper
1½ tablespoons all-purpose flour
1 cup seafood stock (warmed)
1½ ounce Gouda (shredded)
1/2 teaspoon garlic salt
1/8 teaspoon cayenne pepper
Instructions
Pour grits into a greased mold and let cool for 1–2 hours until firm. Remove them from the mold.
Make the sauce. Sauté the sausage and pepper for 3 minutes. Stir in the flour to make a roux. Whisk in the warm stock and continue whisking until combined. Add the cheese, salt and pepper. Taste for seasoning and adjust with salt or pepper as desired. Keep warm.
Set up the grill for direct heat and preheat to 450°F.
Lightly brush the grit cakes with butter and grill 4 minutes a side. Remove from the grill.
Put the shrimp 2 to a skewer, lightly brush with butter and season with the rub.
Grill the shrimp until done, about 2 minutes per side.
Top each grit cake with two shrimp and ladle some of the sauce over them.
Credit: Recipe courtesy of "The Kamado Smoker and Grill Cookbook" by Chris Grove (Ulysses Press)