Grilled Reuben with Smoked Beet Pastrami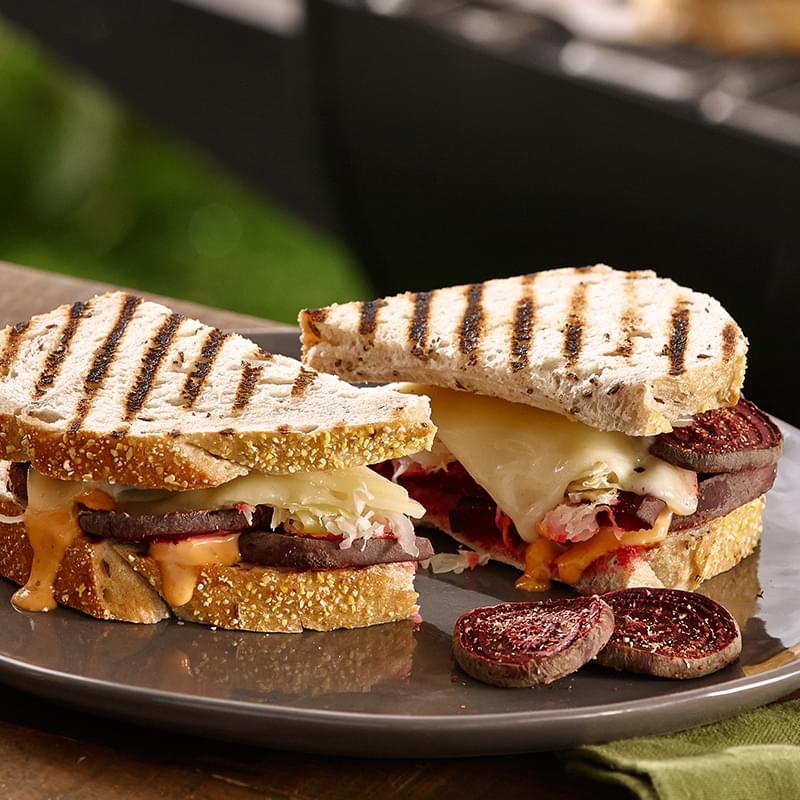 Yields:

4 Servings

Cook time:

20 minutes

Prep time:

4 ½ hours
Ingredients
1 gallon water
6 beets (raw cut in ¼-inch slices)
1/4 cup plus 2 tablespoons salt
1/4 cup dark-brown sugar
2 tablespoons pickling spice
4 cloves garlic (chopped)
2 tablespoons black pepper
1 tablespoon coriander (ground)
12 slices rye bread
1/4 cup Thousand Island dressing
1 cup sauerkraut
4 slices Swiss cheese
2 tablespoons unsalted butter (softened)
Instructions
Build a fire for direct heat using Kingsford® charcoal.
In a large pot, add the water, beet slices, salt, brown sugar, pickling spice and garlic. Place the pot directly over the coals and bring to a boil. Remove the pot from the grill and let stand covered for 4 hours.
Build a charcoal fire for indirect grilling using Kingsford® charcoal.
In a small bowl mix the black pepper and coriander together. Strain the beets from the water and let drain on a two layers of clean paper towel. Season both sides of each beet slice with some of the pepper mixture.
Grill the beets covered over medium heat for one hour or until the beets have softened and grill marks appear.
Spread each of the bread slices on one side with the dressing. Layer the beets on top of four of the bread slices. Spoon the sauerkraut over the beets and top with a slice of cheese. Place the remaining slices over the sandwiches.
Butter the sandwiches and grill them for another 3 to 5 minutes or until the cheese has melted and the sandwich is heated through.