Grilled Pecan Praline Bacon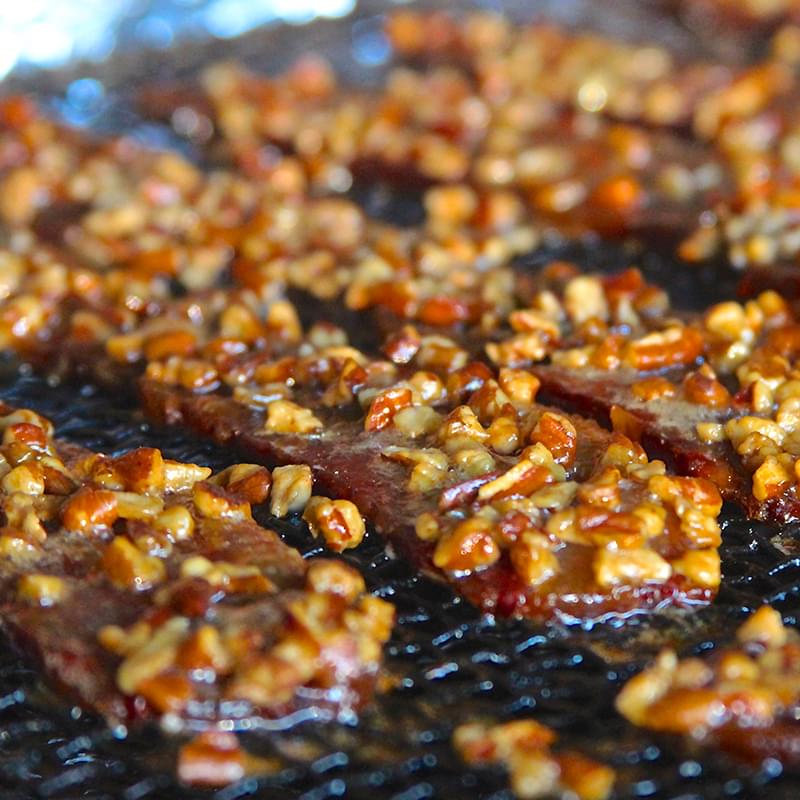 Yields:

6 Servings

Cook time:

20 minutes

Prep time:

10 minutes
Ingredients
1/2 cup brown sugar
1/4 cup corn syrup
2 tablespoons unsalted butter
1/4 teaspoon vanilla extract
1/4 cup pecans
1/2 pound bacon thick cut
Instructions
Light one charcoal chimney full of Kingsford briquets. When the briquets have ashed over along the edges, pour the coals in an even layer across the charcoal grate. Set the cooking grate on the grill and adjust the bottom vents to bring the grill temperature to approximately 350°F.
Place a small saucepan on the grill and add the brown sugar, corn syrup, butter and vanilla extract. Simmer for 4–5 minutes, stirring frequently until the ingredients are completely combined and the mixture has reached a caramel sauce-like consistency. Lay bacon slices on a baking rack and place the rack on an aluminum foil covered sheet pan. Brush the top of the bacon slices with the brown sugar mixture then cover with chopped pecans.
Set the baking sheet on the grill and cover. Allow the bacon to cook for 20 minutes then check for doneness. If the bacon isn't browned and crisp, cover the grill and allow it to cook for an additional 5–10 minutes until done.
Remove the sheet pan from the grill and allow the bacon to cool completely before removing it from the baking rack with a spatula. Serve immediately or refrigerate until ready to use.