Grilled New York Strip Steak with Ginger Chimichurri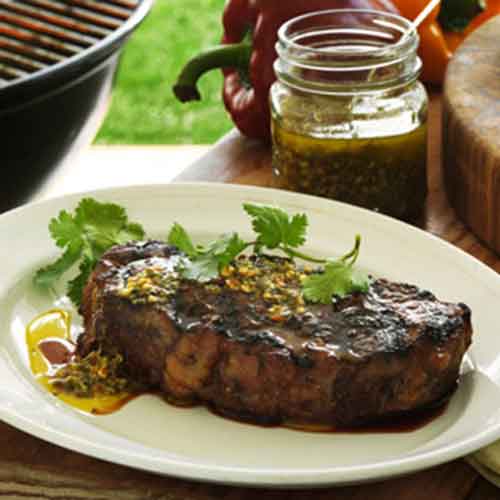 Yields:

4 Servings

Cook time:

20 minutes

Prep time:

5 hours
Ingredients
Marinade
½ cup canola oil
¼ cup cilantro chopped
¼ cup soy sauce
1 12-ounce can Coca-Cola®
2 tablespoons red pepper flakes
2 cinnamon sticks
2 tablespoons garlic minced
Ginger Chimichurri
½ cup cilantro chopped
½ cup extra virgin olive oil
¼ cup lime juice
1 tablespoon red pepper flakes
1 tablespoon garlic minced
1 tablespoon ginger
4 Walmart Choice Premium New York Strip Steaks
Instructions
Combine all marinade ingredients in a food processor, pulse until the mixture is blended.
In a gallon-sized GLAD® storage bag, pour the marinade over the steaks. Marinate for 3–5 hours in the refrigerator.
Add Ginger Chimichurri ingredients into a food processor, pulse until mixture is coarsely mixed.
Remove steaks from marinade and set out until the steaks reach room temperature. Discard any remaining marinade.
Preheat the grill using Kingsford® charcoal, until briquets are consistently ashed over.
Cook steaks until desired doneness, remove from grill.
If you choose to carve the steak, allow the steak to rest for 15 minutes, this will ensure very minimal moisture loss.
To serve, drizzle the steak with Chimichurri and finish with leftover meat juices from resting and carving.
Credit: Recipe created by Louis Rook III of Annie Gunn's in Chesterfield, Missouri on behalf of the Walmart Choice Steak Challenge presented by Kingsford® charcoal and Coca-Cola®.