Grilled Mahi-Mahi Burger with Chipotle-Lime Avocado Spread & Coleslaw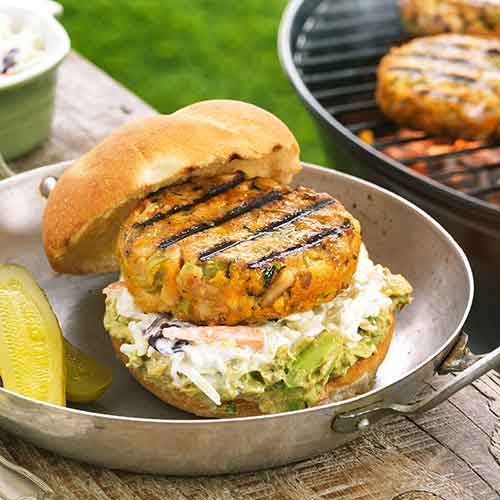 Yields:

8 Servings

Cook time:

15 minutes

Prep time:

40 minutes
Ingredients
Coleslaw
1 carrot julienne cut
1 pinch black pepper
1 tablespoon sugar
1 teaspoon lemon juice
1½ teaspoon vegetable oil
2½ cups cabbage
3 tablespoons rice vinegar
1 pinch salt
1 cup celery finely diced
1 cup green bell pepper
1 tablespoon paprika
1 tablespoon salt
1 tablespoon Worcestershire sauce
1 teaspoon black pepper
1½ pounds mahi-mahi diced (½ inch)
1/2 cup fresh parsley chopped
1/2 cup mayonnaise
1/2 teaspoon cayenne pepper
1/2 teaspoon curry powder
1/2 cup (1 stick) unsalted butter
2 cups onions finely diced
2 eggs lightly scrambled
2½ cups panko bread crumbs
3 tablespoons butter
4 cloves garlic minced
4 teaspoons lemon juice
8 Kaiser rolls
Chipotle-Lime Avocado Spread
1 pinch salt
1/4 cup sour cream
2 avocados pits and skin removed
2 tablespoons cilantro
2 tablespoons lime juice
2 tablespoons red onion
3 chipotle chiles
1 pinch black pepper
Instructions
Melt the butter in a large skillet over medium-high heat. Add in the onions, green pepper and celery and sauté for 5 minutes, until onions are translucent and starting to brown. Add in the parsley, Worcestershire sauce, garlic, salt, paprika, curry powder, black pepper and cayenne pepper. Cook for an additional 4 minutes until the mixture is browned. Remove from heat and set aside.
In a large bowl, combine the diced mahi-mahi, bread crumbs, mayonnaise, scrambled eggs and lemon juice. Add in the sautéed vegetables and mix well. Then, hand-form eight mahi-mahi burger patties and place them on a lightly greased cookie sheet. Refrigerate for 30 minutes.
In a small bowl, combine all of the chipotle-lime avocado spread ingredients. Stir vigorously to mash the avocado and combine the mixture. Refrigerate until needed.
In a medium bowl, combine the all of the coleslaw ingredients and mix well. Refrigerate until needed.
Build a charcoal fire for direct grilling using Kingsford® charcoal and preheat to 400°F. Brush the cooking grates with vegetable oil and place the mahi-mahi burgers over direct heat and cook for 3 minutes on each side, or until well browned. Remove the patties from the grill and set aside.
Lightly butter the face of the Kaiser rolls and place them over direct heat with the grill lid open. Cook for 30 seconds or until the face is light brown and toasted. Dress each Kaiser roll with chipotle-lime avocado spread and coleslaw, add on a mahi-mahi patty and enjoy!