Grilled Chicken Lettuce Wraps with Spicy Mango Marinade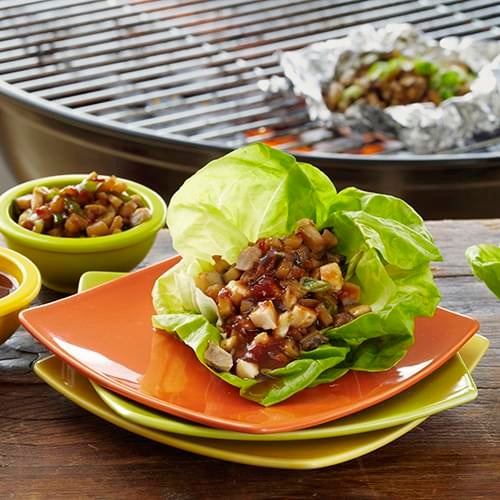 Yields:

6 Servings

Cook time:

15 minutes

Prep time:

30 minutes
Ingredients
1 can (18 ounces) diced water chestnuts drained
1 clove garlic peeled, minced
1 tablespoon sesame oil
1 tablespoon dark brown sugar
1¼ pound boneless, skinless chicken thighs (4–6 thighs)
2 teaspoons soy sauce
3 green onions white and green parts, thinly sliced
3 ounces fresh button, or white mushrooms wiped clean, stems trimmed, diced
6 to 8 Boston or butter lettuce leaves, rinsed well, patted dry
1/2 cup KC Masterpiece® Spicy Mango Marinade
1/2 teaspoon rice vinegar
Asian Honey-Mango Sauce
1 tablespoon hoisin sauce
2 tablespoons honey
2 teaspoons KC Masterpiece® Spicy Mango Marinade
2–3 teaspoons chili paste (add more to increase spicy flavor)
Instructions
Preheat the grill and build a charcoal fire for direct grilling.
In a 2-quart GLAD® storage bag, combine the chicken and ½ cup of KC Masterpiece® Spicy Mango Marinade. Seal the bag and toss until well coated. Chill for at least 30 minutes.
In a small sauce pan, add the honey, hoisin, chili paste and the remaining marinade, and cook over a medium heat for 3 to 5 minutes or until the marinade mixture is well blended and heated through. Remove the pan from the heat and set aside.
In a small bowl, add the water chestnuts, mushrooms, green onion, garlic, soy, brown sugar, sesame oil and vinegar and stir until well blended. Pour this mixture into the center of a 12x12-inch sheet of heavy duty foil. Fold the foil over the mushroom mixture, seal the edges and pierce with a fork.
Place the foil packet on the grill and cook for 12 to 15 minutes. Grill the chicken for 5 to 7 minutes on each side or until juices run clear. Remove the chicken and the foil packet from the grill and let stand until cool enough to handle. Dice the chicken into 1/4-inch pieces and remove to small serving dish.
Remove the mushroom mixture from the packet, drain the liquid and place in a small bowl. Toss the mushrooms with the marinade mixture until well coated.
Trim the stem from each lettuce leaf and shape each leaf into a cup. Fasten with a toothpick if needed. Divide the chicken evenly between the lettuce cups and top with the sauce, or serve the lettuce on the side for guests to fill their own tasty appetizer.