Grilled Chicken and Black Bean Breakfast Burrito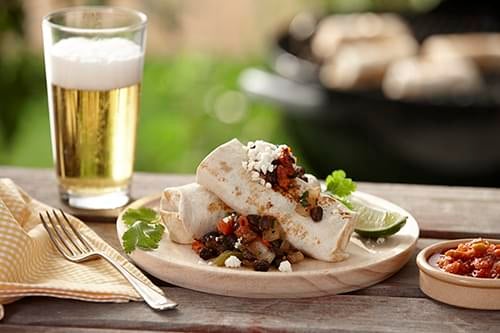 Yields:

5 Servings

Cook time:

30 minutes

Prep time:

20 minutes
Ingredients
3 ripe plum tomatoes
1/2 medium white onion sliced
1/2 green bell pepper
1 cup canned black beans drained and rinsed
2 tablespoons fresh cilantro chopped
2 minced garlic cloves
1 teaspoon cumin
1 teaspoon freshly squeezed lime juice
1/2 teaspoon salt
1/4 teaspoon cayenne pepper
1 pound chicken breasts boneless, skinless
6 (8-inch) flour tortillas
4 ounces queso fresco crumbled
Instructions
Build a charcoal fire for direct grilling using Kingsford® charcoal and preheat to 400°F.
Grill the tomatoes, onion slices,and peppers over direct heat and cook for about 5 minutes, turning once, until they char and start to soften. Remove the vegetables from the grill.
Chop the tomatoes, and slice the onions and peppers into thin strips.
In a skillet, add the vegetables, beans, cilantro, garlic, cumin, lime juice, salt and cayenne.
Place the skillet on the grill and cook for 5 to 7 minutes or until heated through. Remove the skillet from the grill and set aside.
Season the chicken with salt and pepper and grill for 5 to 7 minutes on each side or until an internal temperature of 160°F is reached.
Slice the chicken into thin strips.
Divide the chicken evenly over each tortilla. Top with the vegetable mixture and the cheese.Fold neatly into a burrito.
Grill the burritos for 1 to 2 minutes over direct heat or until crispy and heated through.
Credit: Recipe created by world champion pitmaster, Chris Lilly on behalf of Kingsford® charcoal.