Grilled Cheese-Stuffed Jalapenos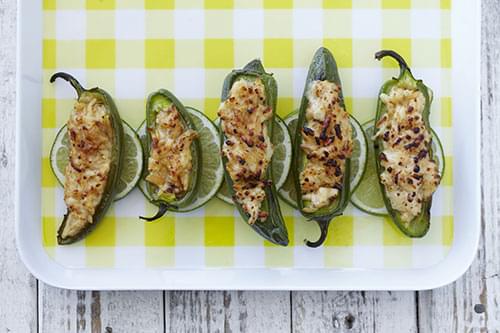 Cook time:

15 minutes

Prep time:

10 minutes
Ingredients
1 cup (4 ounces) shredded Jack cheese
4 tablespoons Hidden Valley® Spicy Ranch Dressing
4 teaspoons KC Masterpiece® Spicy Original Barbecue Sauce
8 (¾ pounds) jalapeno peppers
Instructions
Mix cheese and Hidden Valley® Spicy Ranch dressing together in a small bowl; set aside.
Place peppers on heated grill; roast about 4 minutes per side or until peppers begin to blister. Remove from heat and allow to cool about 10 minutes.
Reserving stem end, cut peppers in half lengthwise and remove seeded core. Spoon cheese mixture into peppers. Arrange stuffed peppers in a small heat-proof skillet or pan. Return to grill and heat 5 minutes or until cheese is melted.
Drizzle with KC Masterpiece® Spicy Original Barbecue Sauce.