Grilled Bratwurst with Chow-Chow Relish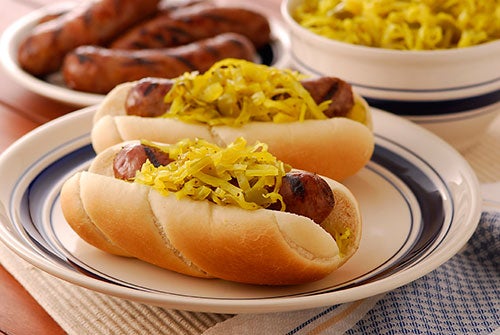 Yields:

8 Servings

Cook time:

1 ¼ hours

Prep time:

4 ½ hours
Ingredients
Chow-Chow
1 medium head cabbage shredded
1 tablespoon celery seed
1 teaspooon turmeric
2 green tomatoes diced, (can substitute tomatillos, found in Mexican grocery stores and most produce markets)
2 onions diced
2½ cups sugar
3 cups vinegar
4 green bell peppers diced
½ cup salt
Ingredients
2 cans cola (24 ounces)
8 hotdog buns
8 uncooked bratwurst sausages
Instructions
In a large container, combine chow-chow ingredients, cabbage, peppers, onions and tomatoes (raw vegetables should equal 2½ to 3 quarts). Mix vegetables with ½ cup of salt, cover them, and let them stand for 4–12 hours. Drain well.
Pour cola into small pot. Add sausages to the pot. Bring to a boil. As soon as the cola turns clear remove the sausages from the liquid (about 4–5 minutes).
Combine vinegar, sugar, celery seed and turmeric in a large pot and bring to a boil. Add drained vegetables and simmer for 1 hour, stirring occasionally. Chow-chow can be served as a hot or cold topping. For canning, spoon into sterilized pint canning jars and seal. (Makes 3 pints.)
Preheat charcoal grill to 400°F. Place bratwursts on hot grate over direct heat for 2 minutes on each side. Remove bratwurst from grill and place on hotdog bun. Top with a generous helping of chow-chow.