Grilled Beet Salad with Goat Cheese & Green Beans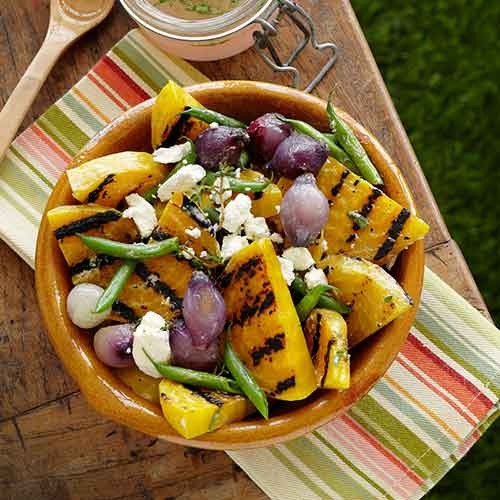 Yields:

6 Servings

Cook time:

15 minutes

Prep time:

10 minutes
Ingredients
Grapefruit Vinaigrette
1½ teaspoons salt
1 teaspoon freshly chopped thyme leaves
½ cup extra virgin olive oil
½ large ruby red grapefruit juiced, (or ¾ cup ruby red grapefruit juice)
¼ teaspoon cracked black pepper
3 tablespoons freshly chopped basil leaves
½ pound French green beans
2 cups water
2 ounces farm goat cheese
20 small pearl red onions
6 medium golden beets
Instructions
Preheat the grill using Kingsford® charcoal.
In a small bowl, whisk the grapefruit juice and olive oil together with the basil, thyme, salt and pepper until emulsified.
Then, bring a 2-quart saucepan filled with 3 inches of cold water to a boil. Once the water is boiling, add the green beans to the pan and cook for 1 to 2 minutes, or until bright green. Drain the beans and place in a large bowl, filled with ice and water. Once cooled, remove the beans to a paper towel to drain.
Place the onions in vegetable grill pan and grill over direct heat for 3 to 4 minutes. Remove from the grill and let cool.
Grill the beets for about 5 to 7 minutes over medium heat, or until they have softened a bit and have grill marks. Then, remove the beets and place them into a large bowl. Once cool, cut the beets in half.
Combine the beans, onions, beets and goat cheese in a large bowl, and toss with enough vinaigrette to lightly coat. Chill covered for 30 minutes or until ready to serve.