Grilled and Chilled Vegetable Pasta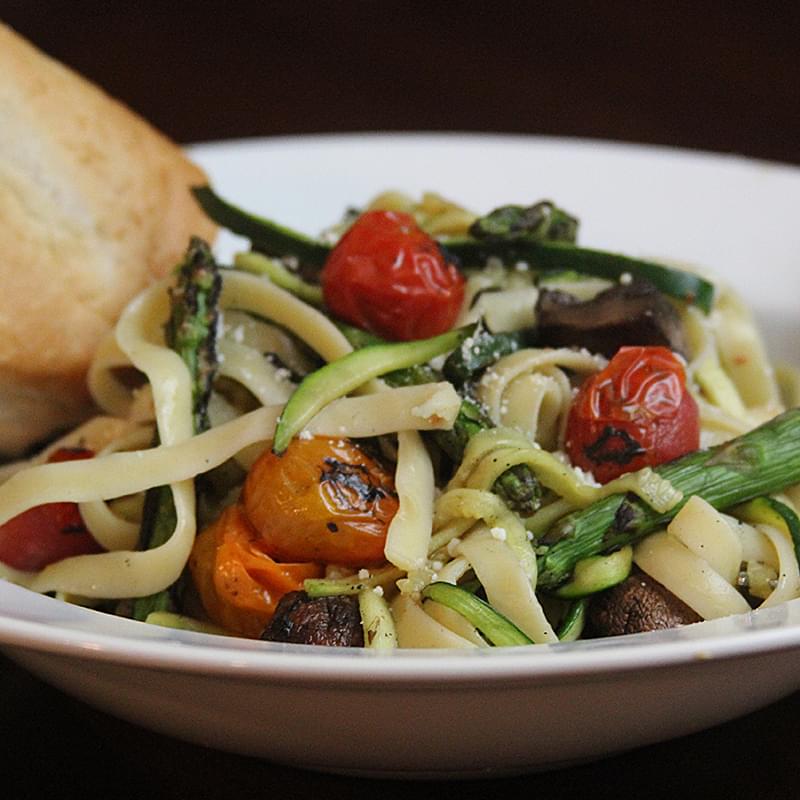 Yields:

8 Servings

Cook time:

15 minutes

Prep time:

10 minutes
Ingredients
1 pound dried fettuccine (prepared according to instructions)
4 green zucchini
2 pints cherry tomatoes
1 pound asparagus
1 pint baby bella mushrooms
2 tablespoons extra-virgin olive oil
juice of ½ lemon
1/4 cup freshly grated Parmesan cheese
1 vegetable grilling basket
Instructions
Prepare grill for medium-high heat cooking, approximately 400°F. Set the vegetable basket on the grill to pre-heat.
Using a vegetable peeler, cut zucchini into long lengthwise strips then cut strips into small spaghetti-like strands. Cut the tough ends off of the asparagus then quarter the mushrooms.
Place zucchini strips and mushrooms in the vegetable grilling basket and cook for approximately 5 minutes, tossing periodically until lightly charred and softened. Remove zucchini and mushrooms from the grill and set aside. Add tomatoes to the grilling basket and allow them to cook for 3–4 minutes until they begin to split. Remove tomatoes and set aside. Set asparagus on the grill and cook on all sides until lightly charred and softened, approximately 6–8 minutes. Remove asparagus and cut into 3-inch pieces.
Combine fettuccine, zucchini "spaghetti," mushrooms, tomatoes and asparagus in a large bowl and toss to combine all of the ingredients. Mix in the lemon juice and Parmesan then refrigerate until ready to serve.