Grill-Smoked Chicken with Jamaican Gravy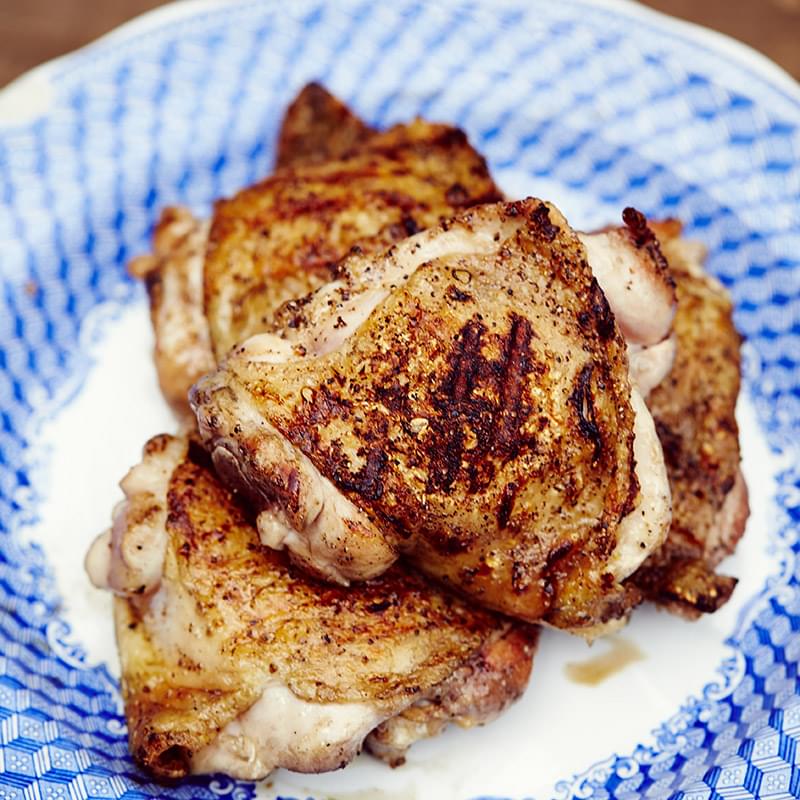 Yields:

4 Servings

Cook time:

15 minutes

Prep time:

15 minutes
Ingredients
Main Ingredients
8 bone-in, skin-on chicken thighs (about 3 pounds)
kosher salt and freshly ground black pepper
Jamaican Gravy (recipe follows)
Wood Chip Packet
1/4 cup wood chips (preferably apple or cherry wood, soaked in water for at least 15 minutes and drained)
3 tablespoons allspice berries
2 tablespoons dried thyme
2 tablespoons dried rosemary
Jamaican Gravy
4 Scotch bonnet or habanero peppers
2 cups low-sodium soy sauce
2 cups distilled white vinegar
3 tablespoons allspice berries
Instructions
Jamaican Gravy Instructions:

Wearing a pair of latex gloves, cut the peppers into quarters, and then remove the seeds and ribs.
In a jar or an empty wine bottle, combine the soy sauce, vinegar, allspice and peppers. Seal and shake a few times. Let stand for at least 1 day at room temperature (waiting a week is even better). The sauce's flavor will improve as it stands, and it can be stored at room temperature for several months.
Instructions
Start charcoal and let burn until coals are glowing red and coated in gray ash, about 15 minutes. You can create two heat zones by adding different amounts of coals to each side of the grill (or leaving one half of the grill coal-free to create a cool side). For a medium-high zone, build a layer about one to two coal deep; for low, scatter a few coals evenly over that side. Oil the grate well.
Place the wood chips in the middle of a 1-foot square of aluminum foil. Sprinkle the allspice berries, thyme and rosemary over the chips and cover with a second piece of foil. Fold the sides over to make a flat packet about 6 inches square. Using a paring knife, poke holes all over the top of the packet. Place the foil packet on top of the coals in the medium-high side of the grill (or, if using a gas grill, lift the grate and place the foil directly on top of the burner).
Season the chicken all over with salt and pepper. When the wood chip packet begins to smoke, place the chicken thighs, skin side down, on the grate over the packet. Grill the thighs, turning them every few minutes, until charred all over and cooked through (an instant-read thermometer inserted into the thickest part of the meat should register 165°F), about 15 minutes. Transfer the chicken to a platter and let rest for a few minutes.
Drizzle the gravy over the chicken and serve, passing extra sauce on the side.
Credit: Excerpted from Feeding the Fire by Joe Carroll and Nick Fauchald (Artisan Books). Copyright ©2015. Photographs by William Hereford.