Coal-Fired Pico De Gallo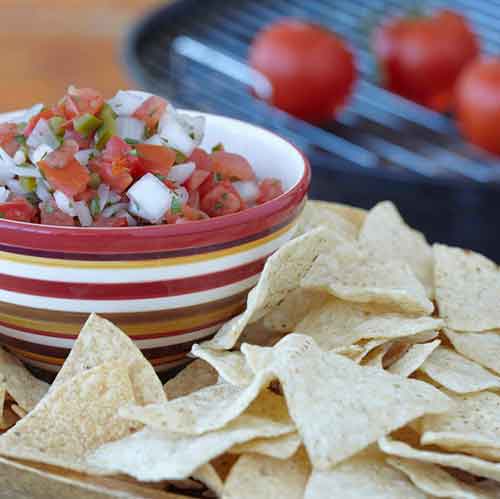 Yields:

2 cups Servings

Cook time:

5 minutes

Prep time:

10 minutes
Ingredients
1 banana pepper
1 medium white onion
2 cloves crushed garlic
2 jalapeño peppers
6 plum tomatoes
1/2 lime juiced
1/2 teaspoon sugar
3/4 teaspoon salt
1/3 cup cilantro
Instructions
Build a charcoal fire for direct grilling with Kingsford® charcoal. While the grill is heating cut the onion into round slices, each 1/2-inch thick. Cut the peppers in half and remove the seeds and veins. Place the prepared vegetables and whole tomatoes directly over the hot coals (approximately 500˚F) and cook for 5 minutes, turning once or until they char and start to soften.
Remove the vegetables from the grill and dice. Combine the diced vegetables, cilantro, garlic, salt, sugar and lime juice into a small bowl. Let the Pico de Gallo sit for 30 minutes so the flavors will meld together. Serve or refrigerate and serve chilled.
Credit: Recipe created by world champion pitmaster, Chris Lilly on behalf of Kingsford® charcoal.