Chorizo Beef Burgers with Smoky Tomato Aioli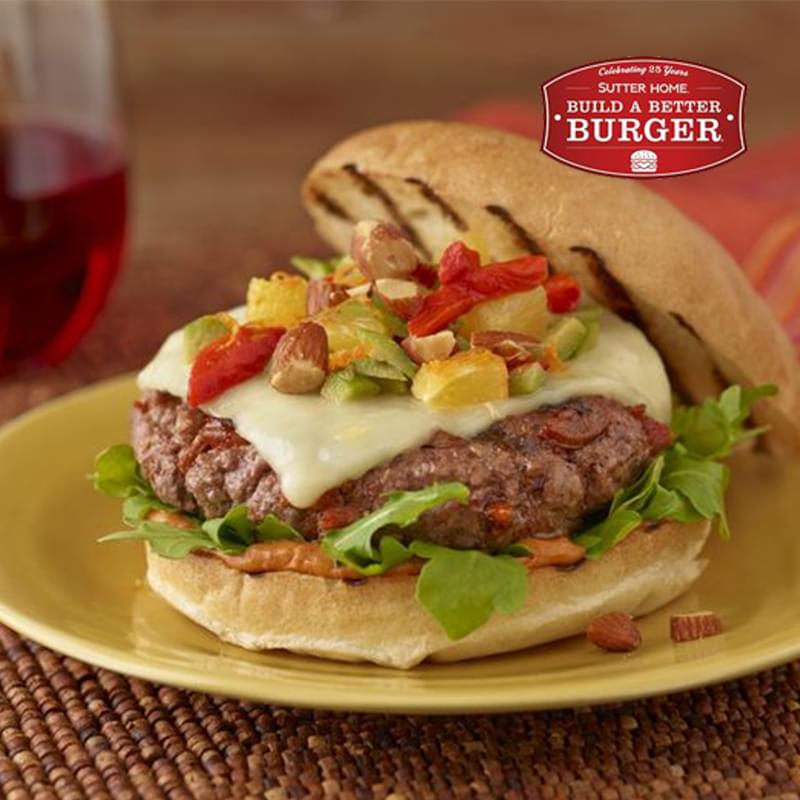 Yields:

6 Servings

Cook time:

10 minutes

Prep time:

30 minutes
Ingredients
Main Ingredients
vegetable oil for brushing grill rack
6 (1 oz.) slices Manchego cheese
6 Telera rolls or sweet French rolls (split)
1½ cups baby arugula
3/4 cup smoked roasted almonds (coarsely chopped)
Smoky Tomato Aioli
1/4 cup drained marinated sun-dried tomatoes
1 clove garlic (crushed)
1/2 cup mayonnaise
1 teaspoon hot smoked Spanish paprika
Orange Piquillo Relish
3/4 cup piquillo peppers (drained, sliced)
1 teaspoon grated orange zest
3/4 cup peeled, diced oranges
1/2 cup Castelvetrano olives (pitted, coarsely chopped)
1 tablespoon sherry vinegar
1 tablespoon extra-virgin olive oil
1/4 teaspoon salt
Patties
1/4 cup finely chopped or grated red onion
3 tablespoons chopped flat-leaf parsley
1½ teaspoons roasted ground cumin
1½ teaspoons dried Mexican oregano
1¼ teaspoons salt
1/2 teaspoon freshly ground black pepper
1&frac12' pounds ground chuck
8 ounces finely chopped Spanish chorizo
4 teaspoons minced fresh garlic
Instructions
Fire up a full chimney of Original Kingsford® Charcoal, or light a pile of about 100 briquets. Configure the coals for a two-zone fire, placing the briquets on one half of the charcoal grate to create a hot zone for grilling and a cool zone for moving the burgers during flare-ups. Adjust the bottom grill vents for medium-high heat cooking, approximately 400–425°F.
To make the smoky tomato aioli, place the tomatoes and garlic in a food processor and process until smooth. Add the mayonnaise and paprika and blend. Transfer to a bowl, cover and refrigerate.
To make the orange piquillo relish, combine all of the ingredients in a bowl and mix well. Cover and refrigerate.
To make the patties, combine the onion, parsley, cumin, oregano, salt and pepper in a large bowl and mix well. Add the ground chuck and chorizo and mix gently but thoroughly. Shape into six ½-inch thick patties. Sprinkle garlic on both sides and gently press in.
Brush the grill rack with vegetable oil. Place the meat patties on the oiled rack. Grill uncovered until they reach an internal temperature of 160°F. During the last 2 minutes of grilling, top each patty with cheese and place rolls cut sides down on the grill until lightly toasted.
To assemble the burgers, spread smoky tomato aioli on the toasted sides of each roll. Layer each roll bottom with arugula and a cheese-topped patty. Top each patty with a dollop of orange-piquillo relish and a sprinkle of smoked almonds. Add the roll tops and serve.
Credit: Sutter Home's Build a Better Burger