Chili-Lime Bison Steak with Chimichurri Sauce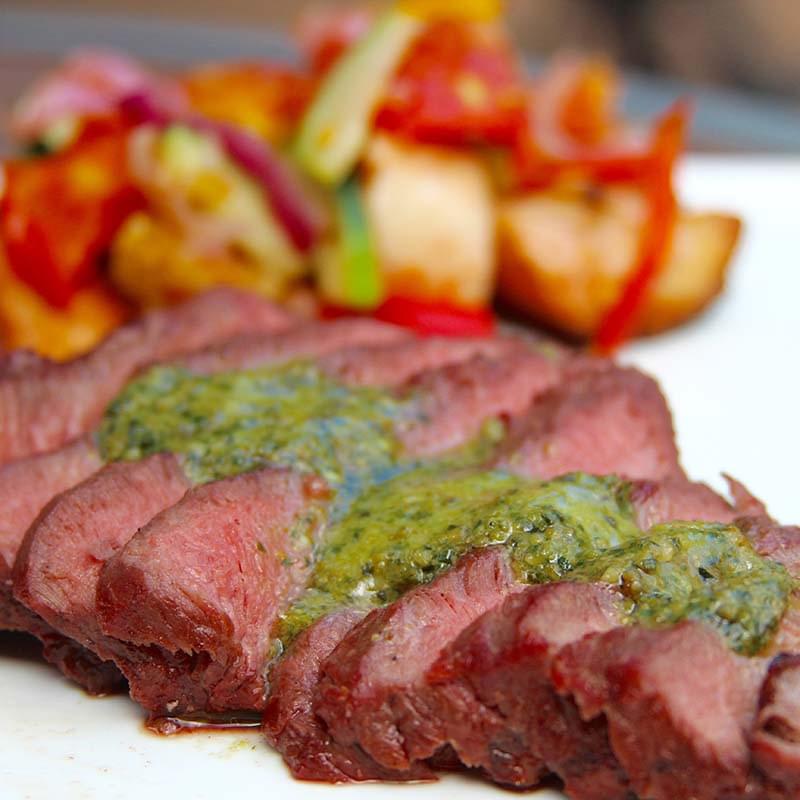 Yields:

4 Servings

Cook time:

15 minutes

Prep time:

10 minutes
Ingredients
Main Ingredients
2 tablespoons kosher salt
1 tablespoon lime zest (finely chopped)
1 tablespoon chili powder
1/2 tablespoon smoked paprika
1 teaspoon dried cilantro
1/2 teaspoon onion powder
1/2 teaspoon garlic powder
3 tablespoons olive oil
4 6-ounce bison top sirloin steaks
chimichurri sauce (recipe follows)
Chimichurri Sauce
1/4 cup cilantro
1/4 cup flat leaf parsley
1/4 cup olive oil
2 cloves garlic (minced)
1/2 teaspoon red pepper chili flakes
2 tablespoons red wine vinegar
1/4 teaspoon kosher salt
Instructions
Combine salt, lime zest, chili powder, paprika, cilantro, onion powder and garlic powder, and stir to combine. Add olive oil and stir to create a wet paste. Spread wet rub paste on the steaks and refrigerate for at least 1 hour.
Prepare grill for high heat cooking, approximately 450°F. Grill steaks for approximately 6 minutes per side until they reach an internal temperature of 130°F for medium-rare.
Remove steaks from the grill and allow them to rest for 5 minutes before slicing and serving along with the chimichurri sauce.