Charcoal Grilled Jerky Thighs with Grilled Pineapples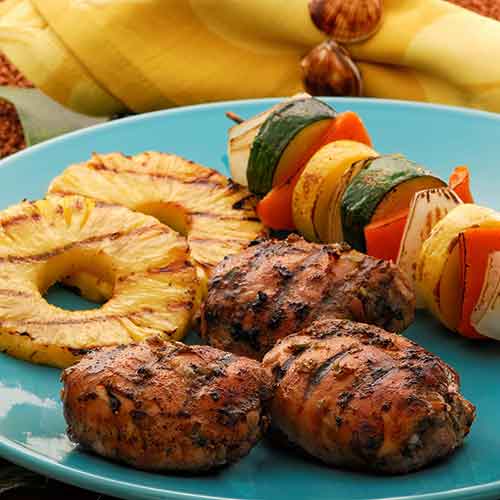 Yields:

4 Servings

Cook time:

19 minutes

Prep time:

2 ¼ hours
Ingredients
Marinade
1 jalapeño pepper (substitute 1 or more Scotch bonnet peppers, for spicier taste)
1 tablespoon fresh ginger
1 onion
1 tablespoon pepper
1 tablespoon salt
1 teaspoon Tabasco sauce
2 teaspoons allspice
4 cloves garlic
6 scallions
Juice from 1 lime
¼ cup brown sugar
¼ cup cilantro
¼ cup water
½ teaspoon ground cinnamon
½ teaspoon nutmeg
2 pounds boneless chicken thighs (about 12 thighs)
1 whole pineapple
Instructions
Toss all of the marinade ingredients into a food processor and pulse several times. With a sharp knife, poke a number of holes in each of the chicken thighs and place the marinade and chicken into a large plastic bag, pushing all the air out and securely sealing the bag. Place in the refrigerator for at least 2 hours or as long as overnight to marinate.
Remove chicken from marinade, reshape into original thigh shape and secure with toothpick. Prepare a grill for cooking and place each thigh directly over the hot charcoals at 425°F. Grill over high heat for about 8 minutes and then turn each thigh over and grill for another 6–8 minutes on the other side or until done.
For the pineapple, cut off the top and then core and peel the pineapple. Then slice into rings, about ½-inch thick. Place on grill over high heat and grill at the same time you cook the chicken. Grill for about 3 minutes on each side and serve warm with the jerk thighs.