Brined Bird Legs with Pop Sop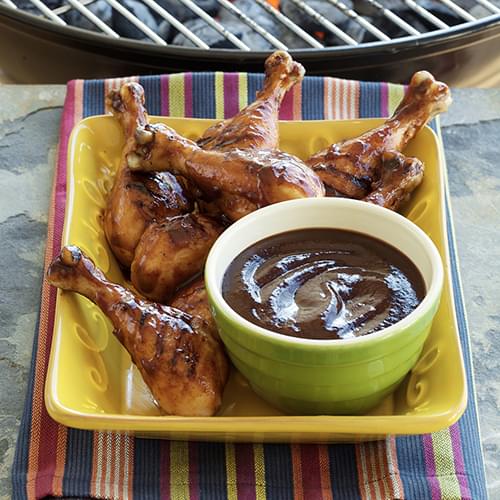 Yields:

6 Servings

Cook time:

12 minutes

Prep time:

2 hours
Ingredients
1 small yellow onion peeled, finely minced
12 ounces cola
16 chicken drumsticks washed, patted dry, skins removed
1½ cups KC Masterpiece® Original Barbecue Sauce
2 tablespoons Worcestershire sauce
¼ teaspoon cornstarch
½ teaspoon garlic powder
Instructions
Place the drumsticks in a 1 gallon GLAD® storage bag. Place the bag upright in a bowl, and add the salt and 1 quart of cold water and seal the bag. Place the bowl with the chicken in the refrigerator and chill for at least 2 hours.
In a saucepan, combine the cola, KC Masterpiece® Original Barbecue Sauce, minced onions, garlic powder and Worcestershire sauce. Whisk in the cornstarch and bring the mixture to a boil. Remove the pan from the heat and allow the mixture to thicken and cool.
Preheat the grill. Divide the Pop Sop into two small bowls. Remove the chicken legs from the brine and pat dry. Season the drumsticks with salt and pepper. Grill the drumsticks over medium heat for 5 to 7 minutes. Turn the drumsticks and liberally brush them with half of the Pop Sop and cook for another 5 to 7 minutes.
Serve the drumsticks immediately with the remaining Pop Sop as a dipping sauce.