Brined and Rubbed Chicken Breasts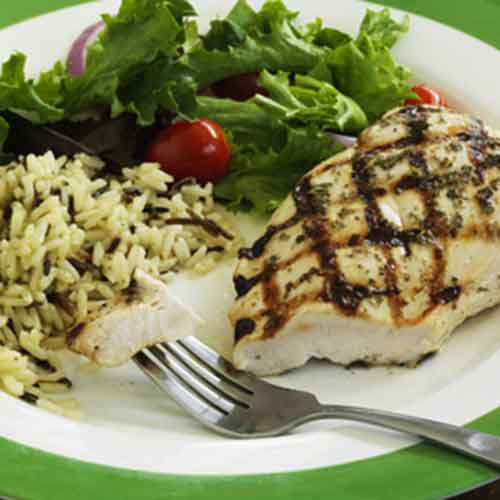 Yields:

6 Servings

Cook time:

14 minutes

Prep time:

4 hours
Ingredients
1 cup dry white wine such as Sauvignon Blanc
1 teaspoon whole black peppercorns
2 bay leaves
2 tablespoons olive oil
3 cups ice water
3 tablespoons herbes de Provence or 1½ teaspoons each dried basil, oregano, thyme, rosemary, divided
6 boneless, skinless chicken breasts (6 ounces)
olive oil for brushing grill
¼ cup plain table salt *
¼ cup sugar *
½ teaspoon freshly ground black pepper
Instructions
For the brine: Stir the ice water, wine, salt, sugar, 2 tablespoons herbes de Provence, peppercorns and bay leaves in a nonreactive bowl until the salt and sugar dissolve. Add chicken and refrigerate for 4 hours, no longer.
Light grill using Kingsford® Charcoal with Sure Fire Grooves®. Spread the coals, banking them with a thick (hot) layer on one side, and a thin (cooler) layer on the other.
Remove chicken from brine; pat dry with paper towels. Brush breasts with oil. Mix 1 tablespoon herbes de Provence and ground pepper and rub onto breasts.
Lightly oil the grill. Place chicken over hot area of the grill; cover the grill. Cook until the undersides are seared with grill marks, about 2 minutes. Turn and sear the other sides, about 2 minutes more. Move to the cooler side of the grill and cover. Cook until the chicken springs back when pressed in the center, about 10 minutes. Let stand for 3 minutes, then serve.
*To brine the chicken for 4 to 8 hours, reduce the amount of salt and sugar to 2 tablespoons each.