Brat Burgers with Spicy Beer Slaw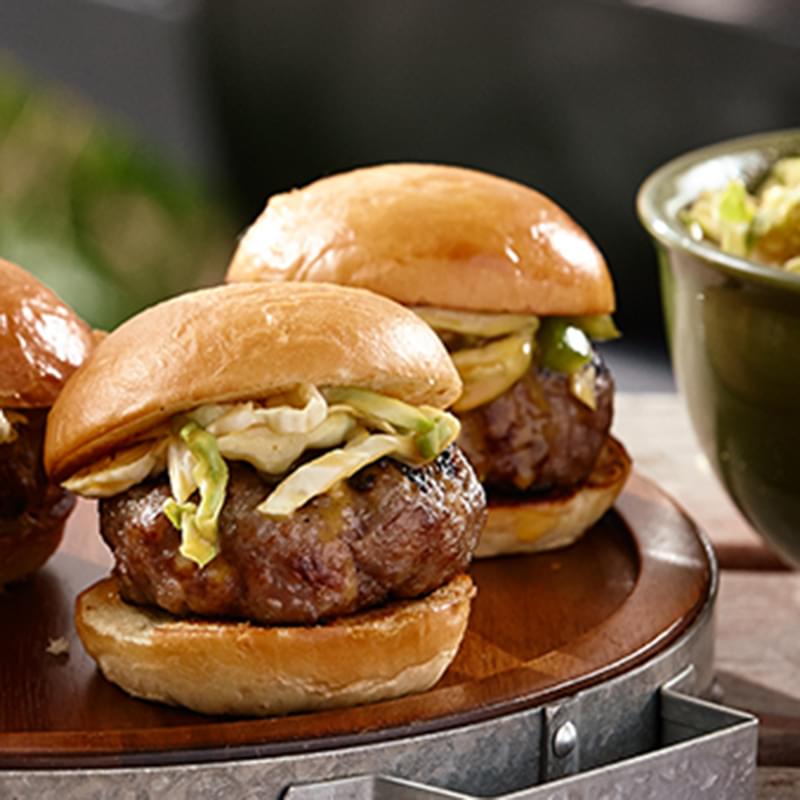 Yields:

10 Servings

Cook time:

10 minutes

Prep time:

20 minutes
Ingredients
4 cups green cabbage (finely shredded)
1 small yellow onion (diced)
1 green bell pepper (diced)
1/2 cup yellow mustard
1/4 cup apple cider vinegar
1/4 cup beer
1/4 cup ketchup
1/4 cup sugar
3 tablespoons hot sauce
1/2 teaspoon garlic salt
1/4 teaspoon cayenne pepper
10 fresh bratwurst sausages
10 small hamburger buns or large slider buns
Instructions
In a large bowl, add the cabbage together with the onion and bell pepper.
In a small saucepan, combine the mustard, vinegar, beer, ketchup, sugar, hot sauce, garlic salt and cayenne.
Over a medium heat bring the mixture just to a boil. Pour the sauce over the cabbage and toss until well coated. Chill covered for at least 4 hours, overnight is best.
Remove the bratwurst from its casings and form ten small patties.
Fire up a full chimney of Original Kingsford® Charcoal, or light a pile of about 100 briquets. Configure the coals for a two-zone fire, placing the briquets on one half of the charcoal grate to create a hot zone for grilling and a cool zone for moving the burgers during flare-ups. Adjust the bottom grill vents for medium-high heat cooking, approximately 400–425°F.
Cook the patties for 3 to 5 minutes or until an internal temperature of 160°F is reached.
Lightly toast the rolls. Top each of the buns with a burger and slaw.
Serve immediately.