Beer-Can Chicken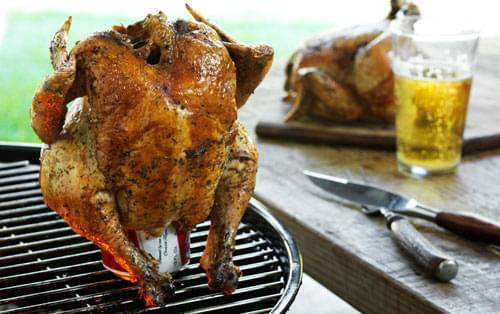 Yields:

4 Servings

Cook time:

1 ½ hours

Prep time:

10 minutes
Ingredients
1 can (12 ounce) Budweiser® beer
1 roasting chicken (4–5 pounds), preferably Amish, or organic
3 tablespoons your favorite dry spice rub recipe divided, or kosher salt, and freshly ground pepper
olive oil
Special Equipment
church key can opener
Kingsford Charcoal® with Sure Fire™ Grooves
vertical chicken roaster optional
Instructions
Prepare grill for indirect/medium heat cooking.
Remove neck and giblets and rinse chicken inside and out, if desired; pat dry with paper towels. Coat chicken lightly with oil and season with 2 tablespoons dry rub. Set aside (Note: If you prefer a more classic roasted chicken flavor, omit the dry rub and use only kosher salt and black pepper.)
Open beer can, pour out about ¼-cup of the beer and make an extra hole in top of the can with church key can opener. Sprinkle the remaining tablespoon of the dry rub inside beer can. Place vertical chicken roaster (such as the Grill Friends™ Chicken Sitter) or beer can in center of cooking grate and "sit" chicken on top of the beer can. The chicken will appear to be "sitting" on the grate.
Cook chicken for 1–1½ hours or until the internal temperature registers 165°F in the breast area and 180°F in the thigh. Remove from grill and let rest for 10 minutes before carving.
Note: When removing from grate, be careful not to spill contents of the vertical roaster or beer can, as it will be very hot.