Beer-Basted Pulled Pork Sliders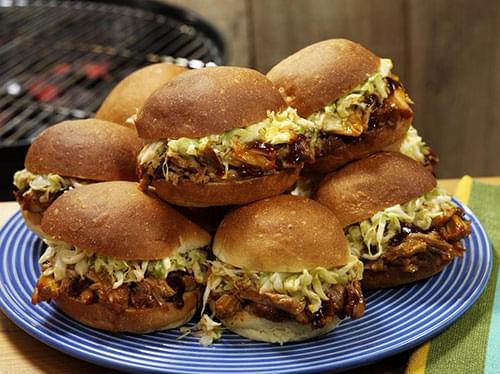 Yields:

12 Servings

Cook time:

7 hours

Prep time:

20 minutes
Ingredients
Baste
1 bottle (12-ounce) dark beer
1 cup (2 sticks) butter
1 tablespoon sugar
1 teaspoon ground cumin
1¼ cup cider vinegar
1¼ cup distilled white vinegar
1½ tablespoon fresh lemon juice
2 tablespoons salt
2 teaspoons black pepper
2 teaspoons dry mustard
2 teaspoons paprika
3 teaspoons chili powder
¼ cup soy sauce
½ cup Worcestershire sauce
Ingredients
1 bottle KC Masterpiece® Original Barbecue Sauce
1 pork butt (7–8 pounds)
24 slider buns
Dry Rub
1 tablespoon dark brown sugar
1 tablespoon paprika
2 tablespoons granulated sugar
3½ teaspoons garlic salt
¼ teaspoon black pepper
¼ teaspoon cayenne pepper
¼ teaspoon ground cumin
¼ teaspoon oregano
¾ teaspoon chili powder
Instructions
While the pork is cooking, combine all of the baste ingredients in a medium saucepan and mix well. Place over medium-low heat and simmer until the butter melts. Keep baste on low heat until ready to use.
Build a charcoal fire for indirect cooking by situating the coals on only one side of the grill, leaving the other side void. Add a small aluminum pan to the void side of the grill and fill it halfway with water.
In a small bowl, combine the dry rub ingredients. Coat the pork evenly with dry rub, patting gently until the mixture adheres to the meat.
When the grill reaches 250˚F, place pork butt on the void side of the grill over the water pan, close the lid, and cook over indirect heat for 4 hours.