BBQ Beef Brisket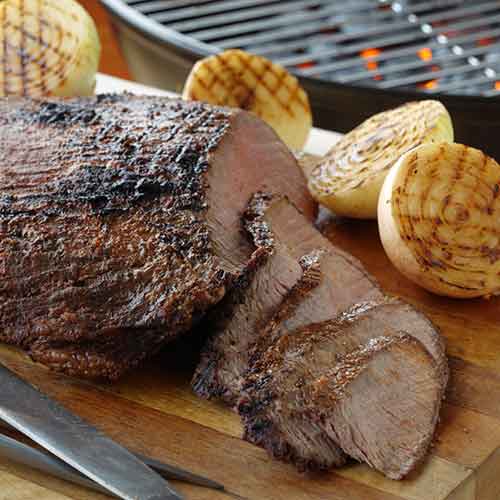 Yields:

8 Servings

Cook time:

6 hours

Prep time:

30 minutes
Ingredients
Ingredients
1 beef brisket flat, (5–6 pounds)
1 cup beef broth
1 tablespoon beef bouillon base (this paste is found in grocery stores, with the soup stock)
Dry Rub
1/4 teaspoon oregano
1/2 tablespoon black pepper
1/2 tablespoon onion powder
1/2 tablespoon paprika
1/2 tablespoon salt
1/2 tablespoon sugar
3/4 teaspoon garlic powder
1/8 teaspoon ground coriander
Instructions
Build a charcoal fire with Kingsford® charcoal for indirect cooking by situating the coals on only one side of the grill, leaving the other side void.
Cover the entire brisket with the beef bouillon paste. In a small bowl, mix the dry rub ingredients and coat the brisket with the dry rub. When the cooker reaches 225°F, place the beef brisket on the void side of the grill and close the lid. Cook for 4 hours until the internal temperature of the brisket reaches 160 to 170°F.
Remove the brisket from the grill and place in a shallow baking dish or disposable aluminum pan. Pour 1 cup of beef broth over the brisket and cover the pan with aluminum foil. Place the baking dish in the cooker for an additional 1–2 hours, until the internal temperature of the brisket reaches 185°F.
Remove the baking dish from the grill and let the meat rest undisturbed for 20–30 minutes. Slice the brisket across the grain and serve.
Mesquite is the wood of choice for many Texans, where beef brisket reigns supreme.
Credit: Recipe created by world champion pitmaster, Chris Lilly on behalf of Kingsford® charcoal.