Barbecue Meatball Skewers with Mozzarella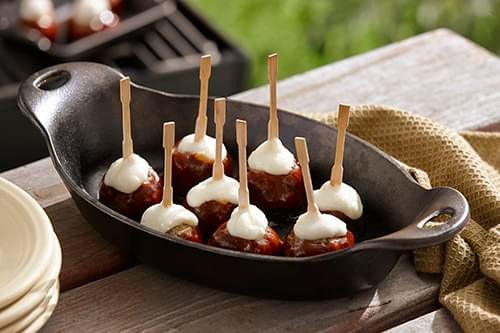 Yields:

20 Servings

Cook time:

10 minutes

Prep time:

25 minutes
Ingredients
1 small yellow onion peeled and chopped
1 egg lightly beaten
½ cup unseasoned bread crumbs
1 pound ground beef
⅓ cup basil freshly chopped
½ teaspoon salt
20 small wooden cocktail skewers
4 ounces fresh mozzarella cheese cut into half-inch chunks
2 cups KC Masterpiece® Kansas City Classic Barbecue Sauce
Instructions
Build a charcoal fire for indirect cooking using Kingsford® charcoal by arranging the coals on just one side of the grill and leaving the other side void. Preheat the grill to 400°F.
In a large bowl, add the beef, onion, egg, bread crumbs, basil and salt and mix well. With wet hands, form the beef mixture into 1-inch meatballs.
Grill the meatballs, covered over indirect heat for 10 to 12 minutes or until the meatballs have browned and an internal temperature of 160°Fahrenheit is reached.
Remove the meatballs from the grill.
Place a piece of the cheese on each of the skewers, and then stick each skewer into the top of each meatball.
Place the meatballs back on the grill and cook covered for another 2 to 3 minutes or until the cheese has melted.
Pour the barbecue sauce into a small bowl, dip each of the meatballs into the sauce just up to the melted cheese.
Serve immediately.
Credit: Recipe created by world champion pitmaster, Chris Lilly on behalf of Kingsford® charcoal.