Barbecue Bacon Wrapped Shrimp with Basil Stuffing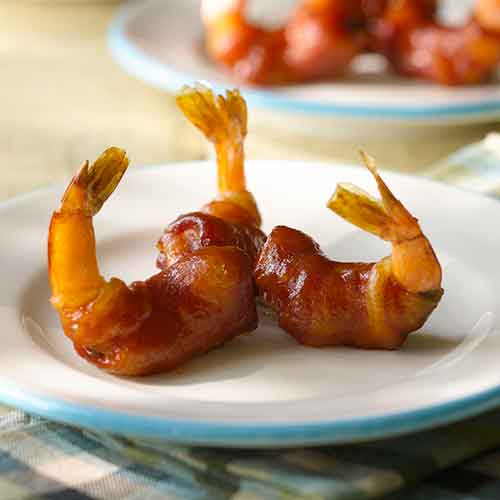 Yields:

6-8 Servings

Cook time:

25 minutes

Prep time:

8 minutes
Ingredients
Main Ingredients
15 slices thin bacon cut in half
30 basil leaves coarsely chopped
2 tablespoons freshly grated Parmesan cheese
1 teaspoon fresh minced garlic
30 large shrimp peeled with tail shells on (21–25 count per pound)
Sauce
1¼ cups KC Masterpiece® Original Barbecue Sauce
¼ cup apple sauce
¼ cup pure maple syrup
1 tablespoon balsamic vinegar
Instructions
Mix together the basil, cheese and garlic. Cut deep down the back of each shrimp and remove the vein. Fill the cut with ½ teaspoon of the basil stuffing. Wrap each shrimp with ½ slice of bacon and tuck the loose end or secure the bacon with a toothpick, leaving only the shrimp tail exposed.
When the grill temperature reaches 400°F, place the shrimp on the grill away from the coals and with the tails pointing up. Close the lid and cook the shrimp for 14 minutes. Drain the shrimp on a paper towel lined platter.
Stir the sauce ingredients together in a small bowl. Holding the shrimp by the tail, dip each into the sauce, and return it to the grill away from the coals. Close the cooker lid and allow the sauce to caramelize (about 1–2 minutes). Serve hot.
Prepare a grill for indirect cooking, using Kingsford® Charcoal, situating the coals on only one side of the grill, leaving the other side void.
Cook the bacon in a large skillet until halfway done, about 2–4 minutes. Drain and cool on paper towels.