Bacon-Wrapped, Stuffed, Grilled Figs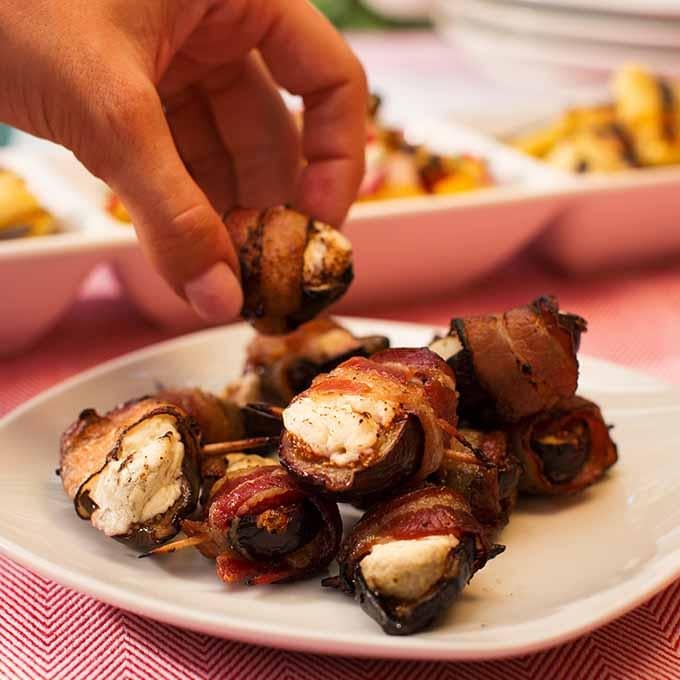 Yields:

10–12 Servings

Cook time:

6 minutes

Prep time:

20 minutes
Ingredients
5–6 fresh Mission figs (cut in half)
6 ounces goat cheese
5-6 strips bacon (strip cut in half and pre-cooked until transparent)
toothpicks
Instructions
Use fresh Mission figs, the deep purple kind that are soft and ripe. Cut the figs in half.
Into the center of the cut side of each fig, place a small scoop of goat cheese, about a tablespoon-full, depending on the size of your figs. Take some bacon strips and precook them in a pan until the fat turns transparent and they are about halfway done. It's important to precook the bacon, because it takes longer to cook through than the figs and cheese. You are just using the grill to sizzle up and finish the bacon. Cut the precooked bacon slices in half. Wrap the fig half with the bacon slice and secure with a toothpick.
Set up two-zone fire. Grill the bacon-wrapped figs on the hot side of the grill. Watch them closely — the precooked bacon and the skin of the figs can burn very quickly if left unattended. Let the bacon sizzle up and cook further, then move to the cooler side to finish up. Remove when the cheese has melted, the bacon is crispy, and the fig is soft and tender.