Armadillo Eggs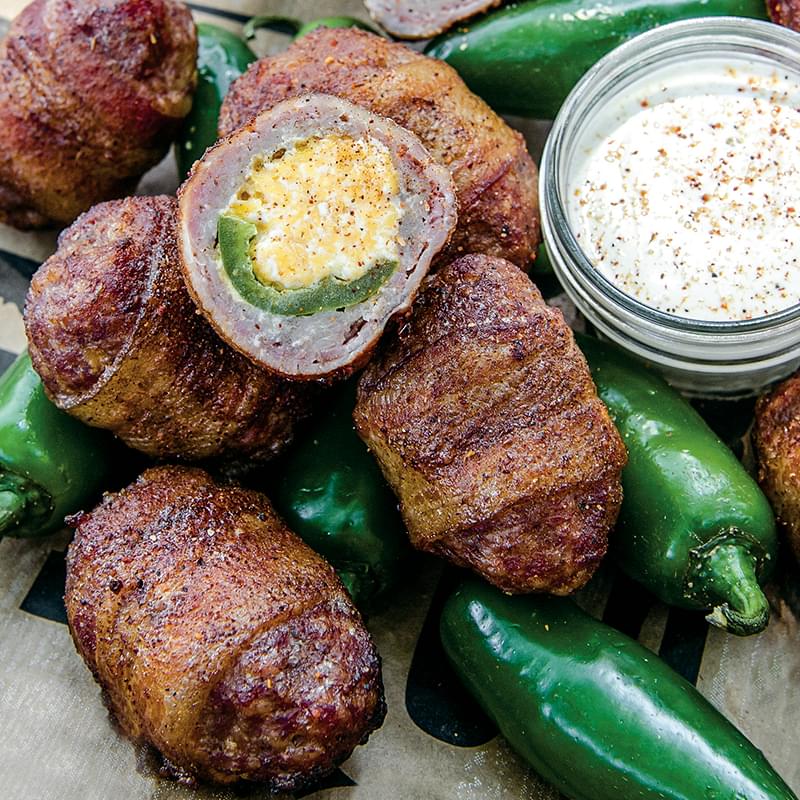 Yields:

24 Servings

Cook time:

1 hour

Prep time:

10 minutes
Ingredients
Main Ingredients
8 ounces cream cheese (softened)
1 cup cheddar cheese
2 garlic cloves (finely diced)
6 jalapeños (cut in half, then each side cut in half)
1 pound Jimmy Dean sausage
1 pound ground Italian sausage
1/2 pound ground chorizo
Smokin' Hoggz All-Purpose Rub (recipe follows)
24 slices bacon
1 cup Ranch dressing
Smokin' Hoggz All-Purpose Rub
1/4 cup ground chipotle powder
1/4 cup turbinado sugar
1/4 cup ground ancho chile powder
1/4 cup paprika
1/4 cup kosher salt
1 tablespoon ground cumin
1 tablespoon onion powder
1 tablespoon dried thyme
1 teaspoon dried marjoram
1 teaspoon cayenne
2 tablespoons green peppercorns (crushed)
1 teaspoon celery seed (or ½ tsp celery seed powder)
1/2 teaspoon ground allspice
1/2 teaspoon cinnamon
1/2 teaspoon ginger
Instructions
Instructions for Smokin' Hoggz All-Purpose Rub:
Mix all of the ingredients and store them in an airtight container.
You can apply rubs anywhere from an hour before cooking the meat to mere moments before the meat hits the grill. As a general rule, you should try to apply a rub one hour before you cook.
Instructions for Armadillo Eggs:
Get your grill set up for low-and-slow cooking over indirect heat (approximately 250°F), filling the water pan about halfway with warm to hot water.
Mix together the cream cheese, cheddar cheese and garlic until well blended. Taste and add salt if needed.
Remove the stems from the jalapeños and cut in half lengthwise. Scoop out the seeds and then cut the sliced jalapeños in half, so one jalapeño should get you 4 quarters. Place about a teaspoon of the cream cheese filling in each jalapeño quarter. Take about ⅓ cup of the sausage and pat it into a 3-inch circle and place the stuffed jalapeño in the center of the sausage. Wrap the sausage around the stuffed jalapeño until it's completely covered, and form into an egg shape. Wrap each egg with one strip of bacon making sure the seam is down.
Season each egg with dry rub.
Place sausage wrapped jalapeños on cool side of the grill. Cover and cook for 1–1½ hours, or until the sausage is cooked.
Serve with ranch dressing.
Credit: Recipe courtesy of "Secrets to Smoking" by Bill Gillespie (Page Street Publishing Co.)